Equipment
Sep 22nd, 2015
The Titleist 716 MB Irons
Butter knife symphony!!!
Words: Daniel Owen Photography: Joseph Donahue
£117 per iron (steel) and £133 per iron (graphite). 
Titleist are known as the serious brand for serious golfers. And golfers don't get any more serious than if they are using a set of muscle back blades. In an ideal world I'd be good enough to play the Titleist 716 MB. Seriously just look at it. It's stunning. But reality hits for most of us, as soon as we miss the tiny sweetspot.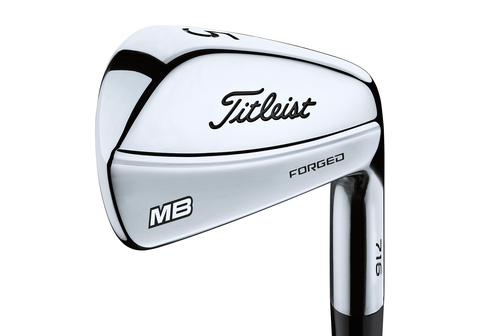 These 716 MB irons are absolutely stunning. Inspired by the older 680 Titleist irons, these feature a higher muscle back for a controlled, more penetrating flight.  The modern  high muscle design with a squarer toe and thin topline, delivers a tour ball flight with maximum shot and trajectory control. The high muscle back weighting, better positioned behind the sweet spot, provides pure, forged feel on every shot. They are designed for precision, not forgiveness. 
Designed using extensive player input and high-tech CAD modelling, new MB irons feature precise profiles that look perfect from long irons to short and provide consistent performance on every shot.
Webb Simpson seems to be a big fan. "I think 716 MB has a great hybrid look between the 680 that I've been playing and the more recent models. I've been playing MB's since I was 15. Fell in love with them. As a kid, you fall in love with how it looks, not how it feels or plays. I fell in love with the look at first, but the more I played them, the more I learned to love them. I'm kind of an old school guy. I like the feel of an MB. I like to be able to shape the ball a little more so, once I started playing them then, I can't get rid of them."
Forged from 1025 carbon steel they feel amazing to hit, on the range we could almost believe we were good enough to hit a blade on a regular basis. Realistically these aren't for everyone, even on perfect strikes, we noticed the lack of ball speed compared to the other models in the 716 range. But if you are an aspiring player, and trust in your own ability to hit a set of muscle back blades, then you could do far worse than at least giving them a go.
Related to this article:
For the Titleist 716 AP2 Irons, Check here...
For the Titleist 716 CB irons, check here...
For the Titleist 816 H1 and H2  hybrids, check here...
TAGS: Titleist, MB, Iron, Web Simpson, Blade, GolfJunk, Golf Equipment, Irons, Equipment, 2015