Equipment
Aug 28th, 2018
Mizuno unveils stunning new JPX919 irons
Packed with your potential
Words: GolfPunk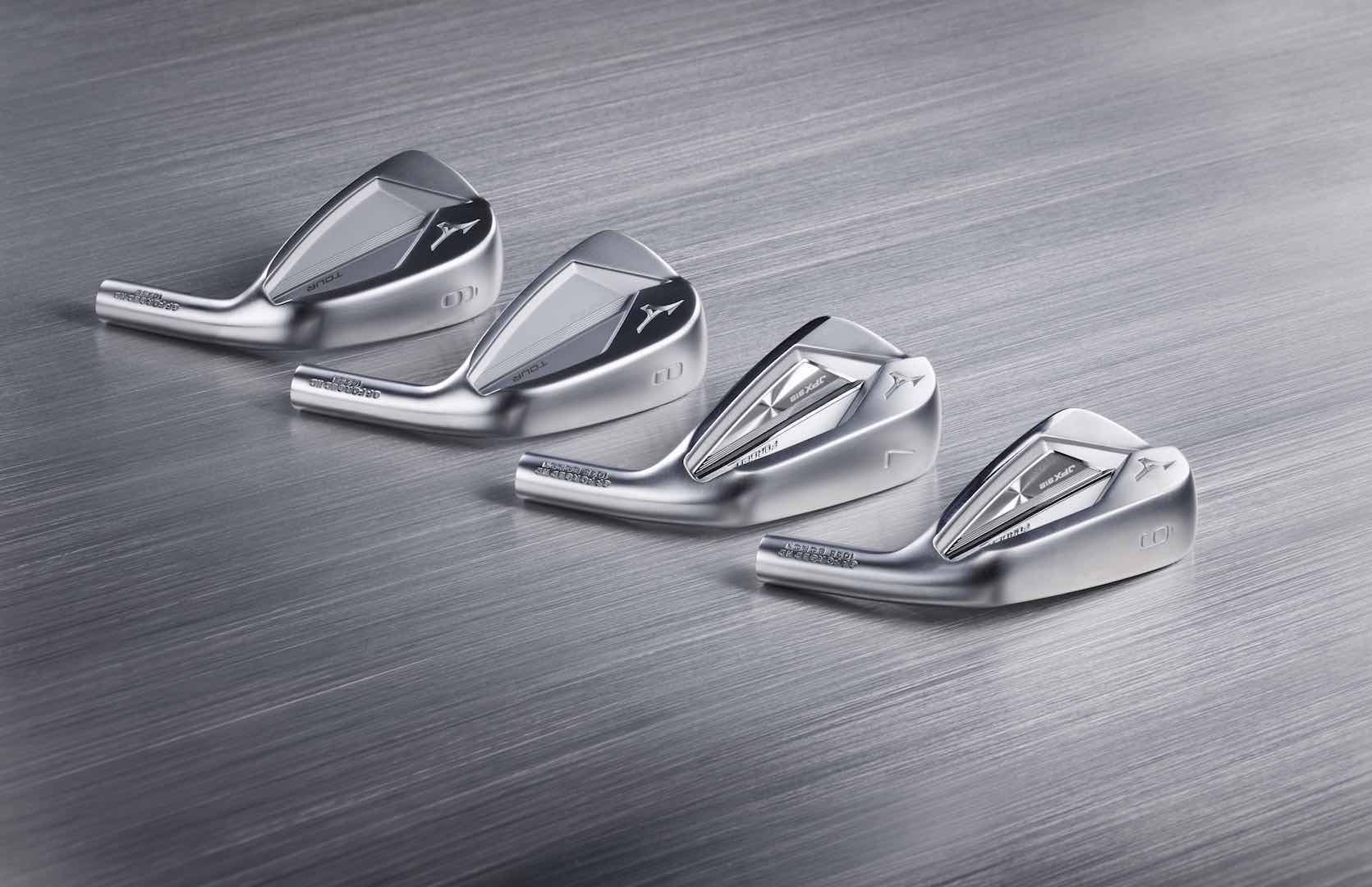 Mizuno has unveiled its new highly engineered JPX919 Series of irons designed to deliver exceptional performance for all types of golf swing.  
The JPX900 Series irons led a resurgence for Mizuno, with the Tour model residing in the bag of the back-to-back 2017/2018 US Open champion. Now Mizuno has unveiled the next evolution of JPX – the JPX919 Series, a highly engineered family of irons that has evolved alongside Mizuno's comprehensive custom-fitting programme to deliver exceptional performance. 
The new family comprises JPX919 Tour, JPX919 Hot Metal and JPX919 Forged, with each model engineered from different base materials to help enhance performance for particular swing types. The JPX919 Tour is forged from 1025E Pure Select Mild Carbon steel; the JPX919 Hot Metal is crafted from high-strength Chromoly 4140M; and the JPX919 Forged is Grain Flow Forged from Boron-infused steel. Despite their design differences, all three JPX919 irons are unmistakably Mizuno in profile and sensation through impact.
JPX919 Tour / 1025E Pure Select Mild Carbon steel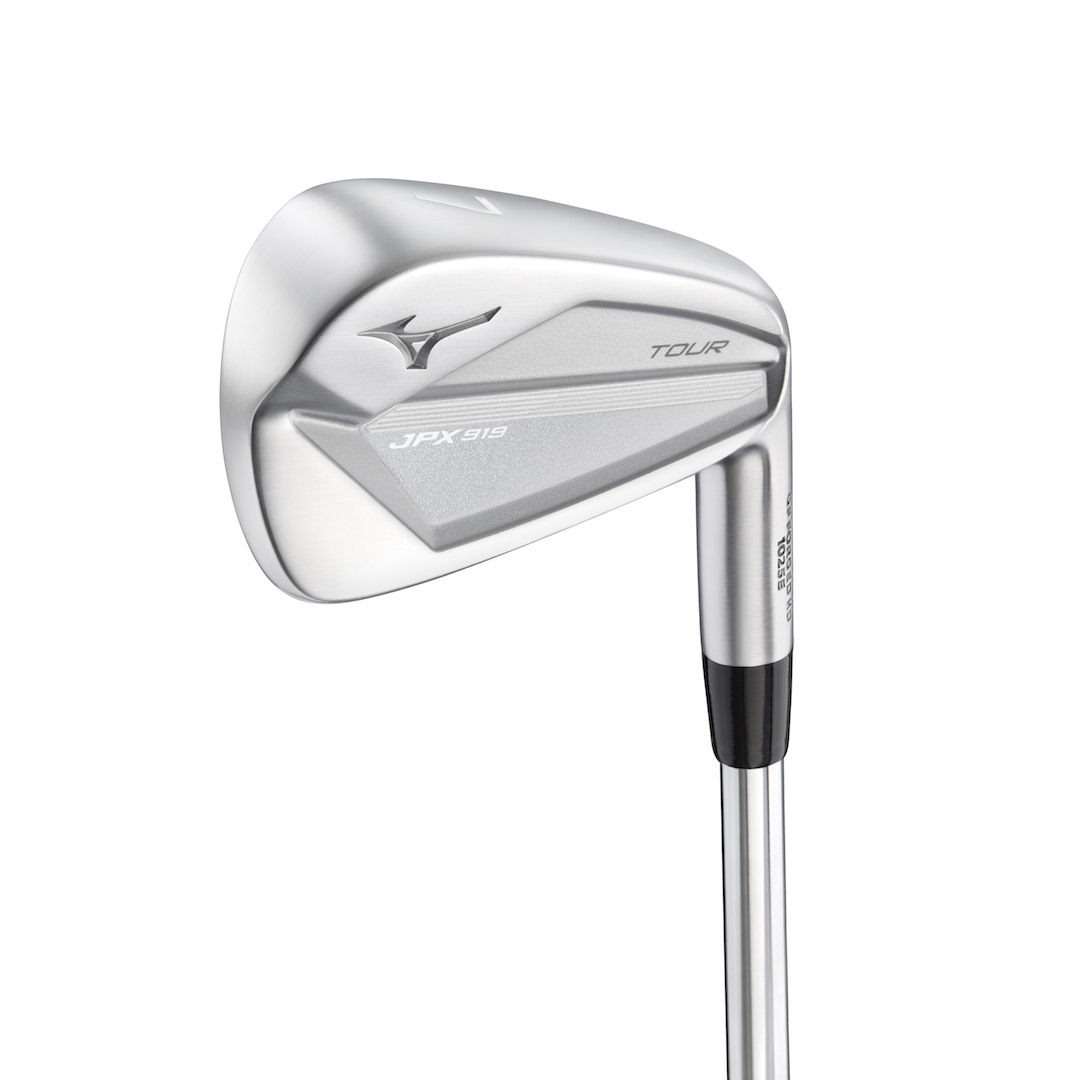 The JPX919 Tour promises tour-calibre performance with precision distance control. It is a more compact, streamlined evolution of Mizuno's standout JPX900 Tour iron from 2017/18, which helped to re-establish Mizuno as the iron of choice on Tour among both contracted and non-contracted players.  Grain Flow Forged HD (High Density) from a single billet of 1025E Pure Select mild carbon steel in Hiroshima Japan, the JPX919 Tour offers the softest, purest Mizuno feel yet.
The JPX919 Tour has that compact, lean look over the ball that elite shotmakers crave, with the top edge narrowed by 10% compared to its predecessor to match the grinds most commonly requested on tour. Despite this, it offers surprising stability for a compact players' iron, delivering tight distance patterns on off-centre strikes courtesy of a frame that is open at the heel portion to enhance stability and launch, while still producing a tour-preferred vibration and sound at impact.
"The JPX919 Tour's compact profile doesn't tell the whole story," says Jeff Cook, Mizuno's PGA Tour Manager. "There's a surprising level of stability and distance control built into this geometry. Its predecessor attracted a new wave of younger tour players into Mizuno irons and made a big impact by winning back-to-back US Opens and recording a course record 61 at St Andrews."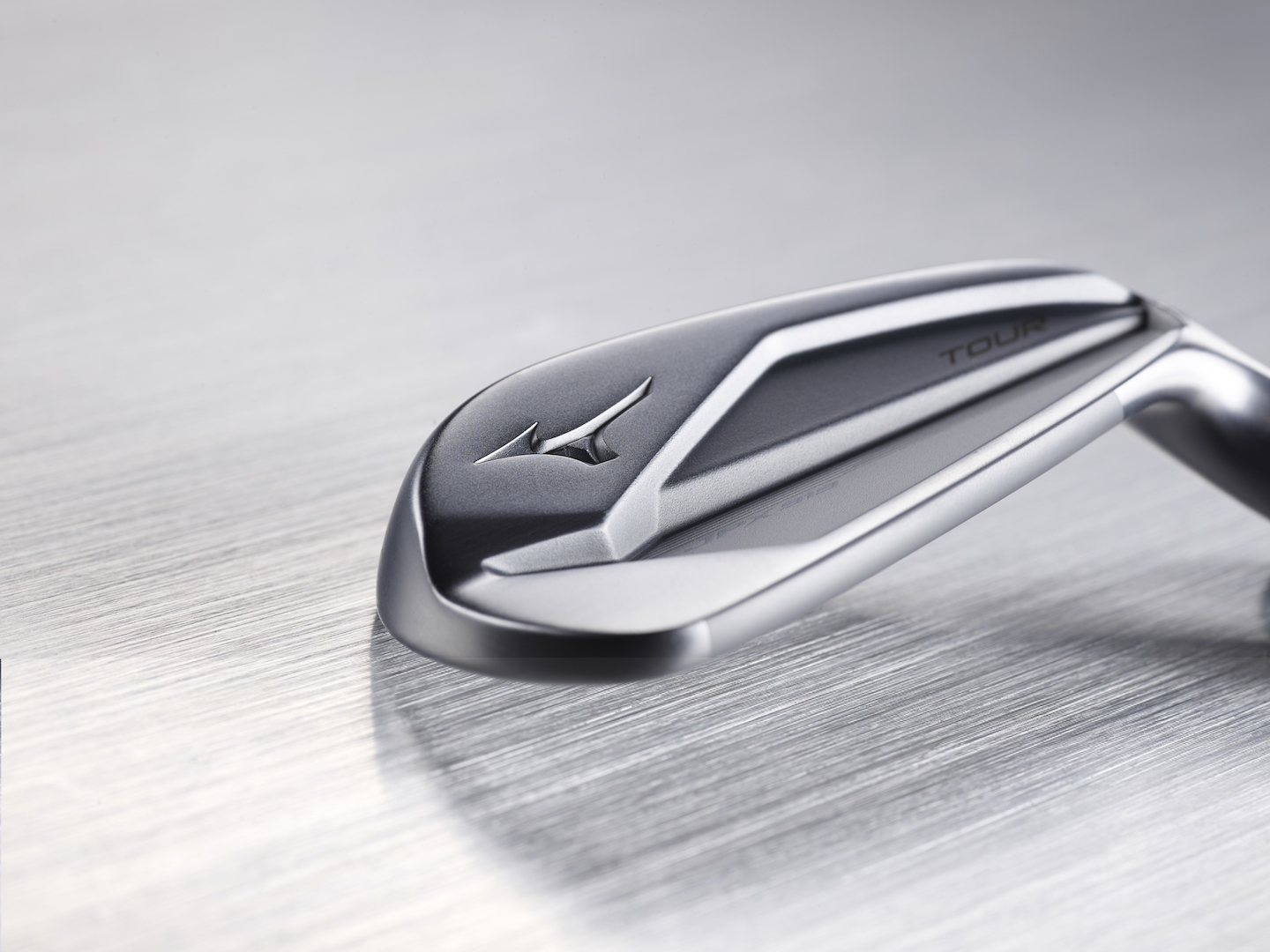 The JPX919 Tour features a Pearl Brush chrome-plated finish to enhance durability and soften its precise lines in bright sunlight and can be built to a customer's desired specification as part of a full, split or short set.
Availability:  3-PW / RH only
JPX919 Hot Metal / Chromoly 4140M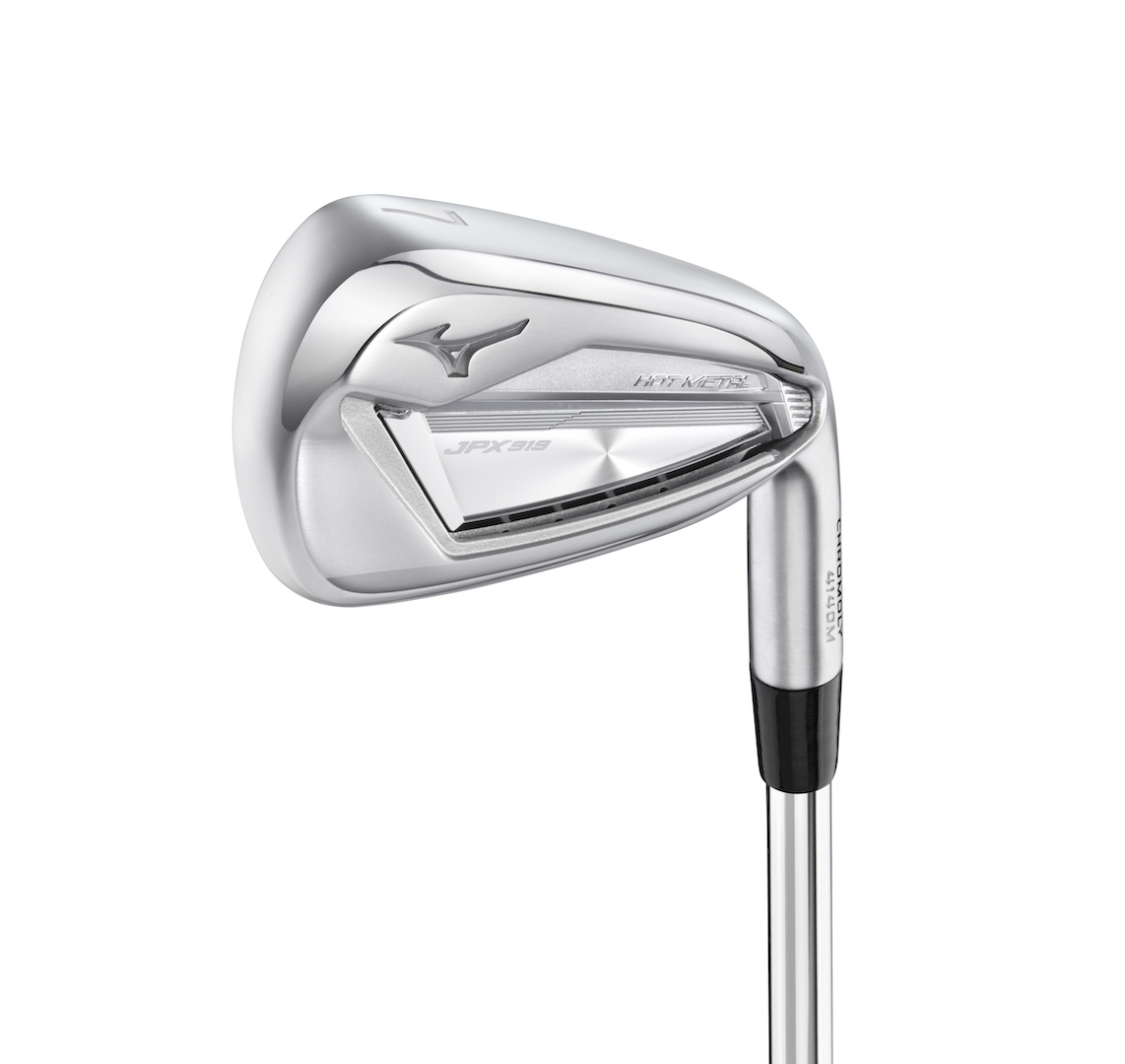 The JPX919 Hot Metal provides a benchmark in iron design, engineered for the perfect blend of ball speed and soft, controllable landing angles. High-strength Chromoly 4140M has paved the way to a new multi-thickness face that promotes astonishing ball speeds, while a seamless one-piece cup face construction ensures surprising levels of feedback even at such unprecedented ball speeds.
It shares the JPX919 Tour's new stability frame, which is open at the heel portion to enhance stability, launch and a loft-appropriate flight apex for controlled, soft-landing approaches. Re-engineered Sound Ribs have been developed to hit specific vibration patterns that ensure a satisfying sensation through impact, with the JPX919 Hot Metal featuring the same Pearl Brush finish as the JPX919 Tour.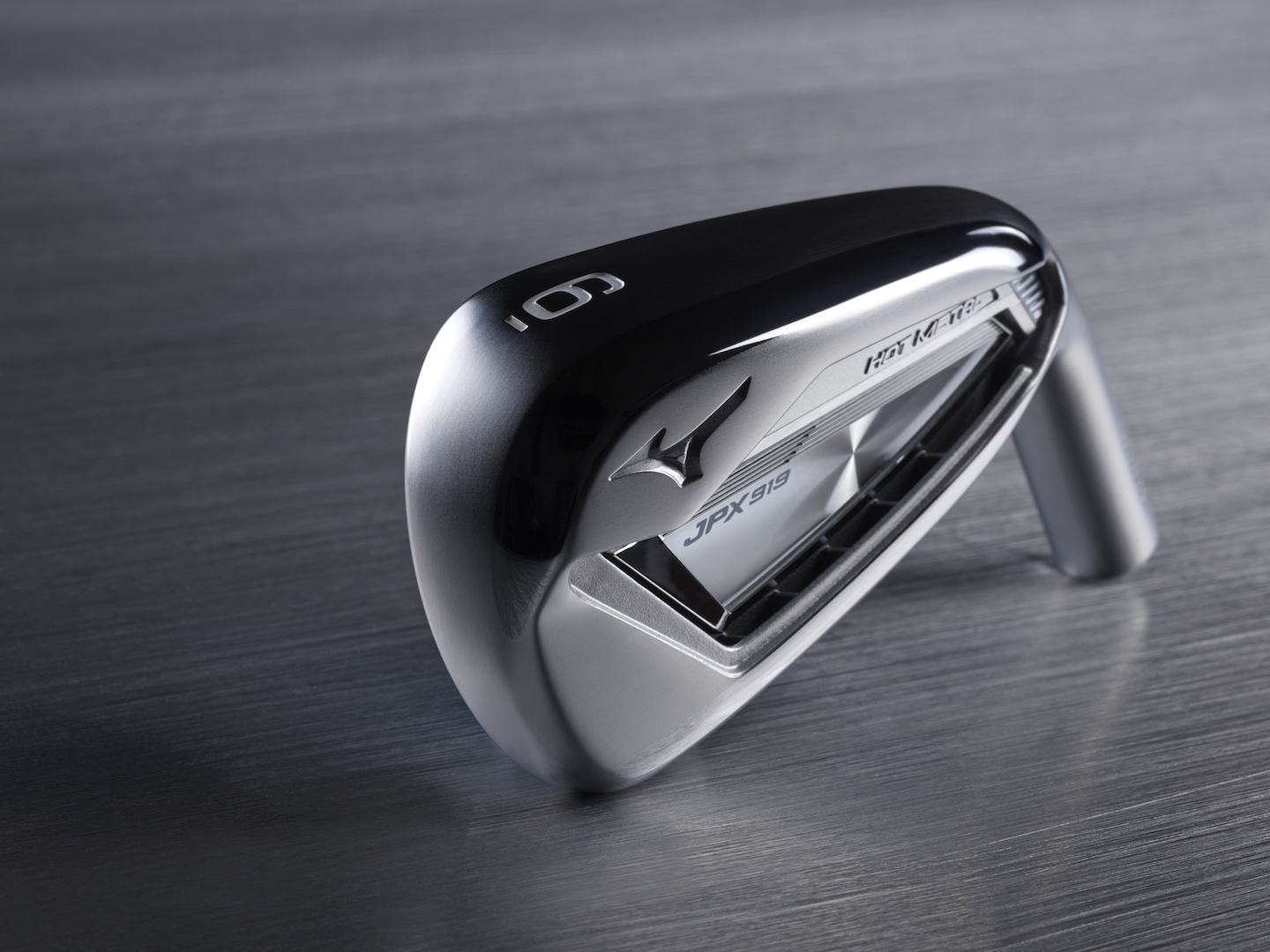 The JPX919 Hot Metal offers a steeper transition into more compact scoring irons and wedges, with set-matching gap, sand and lob wedges available engineered from a softer X30 steel and blessed with precision-milled grooves and faces for improved spin and control around the greens.
"The most impressive thing about the JPX919 Hot Metal is the launch control and flight apex," says Chris Voshall, Senior Engineer at Mizuno. "The extra ball speed and distance doesn't come from low-flying bullets - we work the design backwards from the correct landing angles. These are irons for the golf course, not just the launch monitor!" 
Availability:  4-LW / RH & LH
JPX919 Forged / Boron-infused steel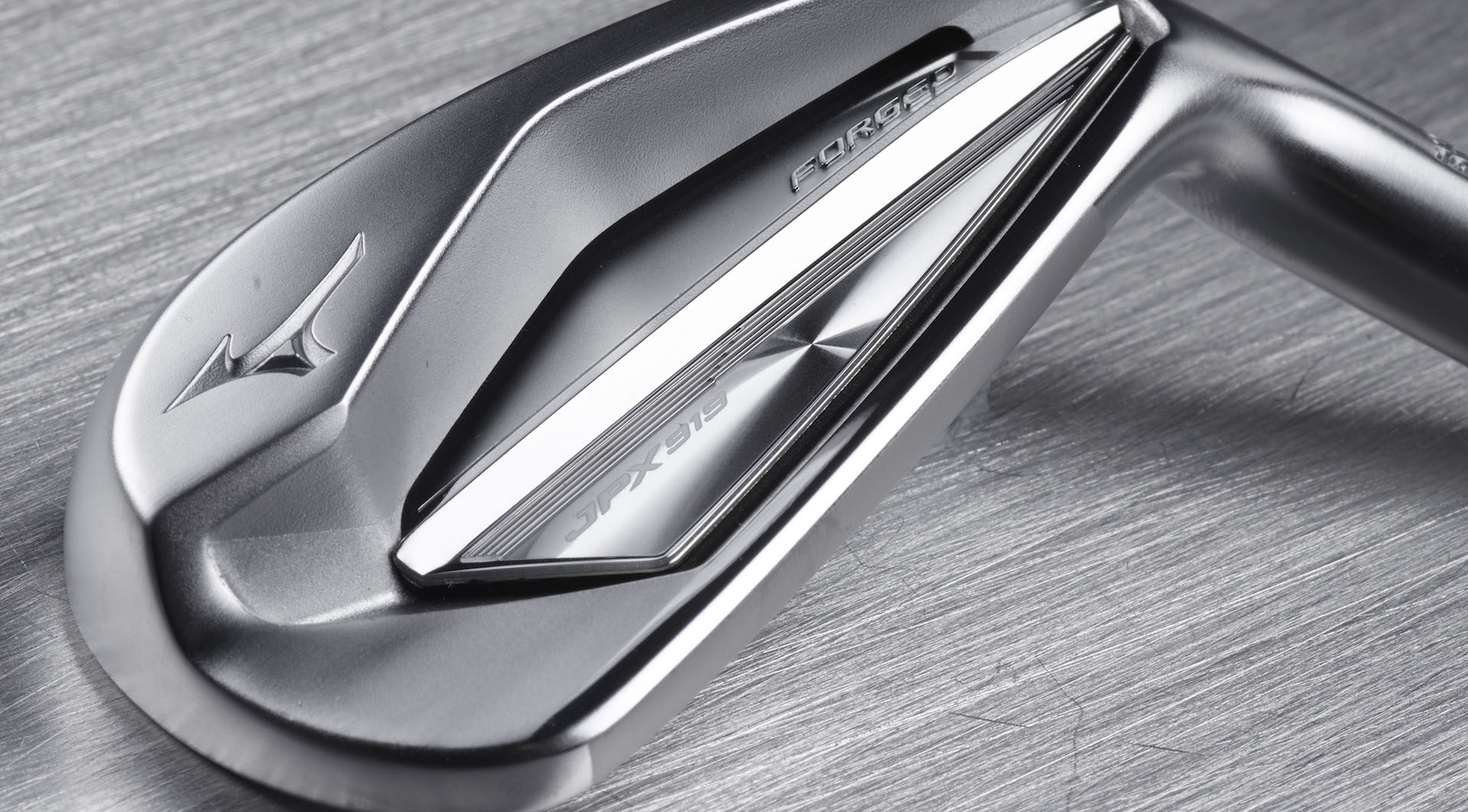 A new reverse-milled clubface, CNC-milled from the sole up to create a larger area of minimum face thickness, makes the streamlined JPX919 Forged Mizuno's fastest ever forged iron in terms of measured ball speed. The resulting weight removed from the face also allows a lower, deeper centre of gravity making it easier to flight the long and mid-irons. Mizuno's trademark workability and elevated Grain Flow Forged HD feedback ensure that the JPX919 Forged is also Mizuno's most versatile iron.
Like the JPX919 Tour and JPX919 Hot Metal the JPX919 Forged features a durable Pearl Brush finish and a stability frame, open at the heel portion to enhance stability, launch and loft-appropriate flight apex for soft-landing approaches. The Forged model is Grain Flow Forged HD (High Density) from a single billet of 1025B mild carbon steel in Hiroshima Japan for unmistakable Mizuno feel, with just a trace of Boron infused into the billet to make it 30% stronger and allow greater design possibilities in a forged head. The overall package is one of "balanced performance" with the JPX919 Forged offering the ultimate blend of ball speed, stability and feedback within a more refined playing profile.
"A deeper, wider milling across the back of the face allows the JPX919 Forged to transfer more energy to the ball than any previous Grain Flow Forged iron," says David Llewellyn, Director of Golf R&D at Mizuno. "None of that would have been possible without that small addition of Boron into our steel billets, which gives that additional strength needed to reinforce the face." 
Availability:  4-PW / RH & LH
All JPX919 irons will be available through the Mizuno Custom Programme, which offers one of the widest selections of no upcharge shafts and grips in the industry. It provides a comprehensive range of custom fitting options from the 34 state-of-the-art Mizuno Performance Centres spread throughout the EMEA region - including 13 in the UK and Ireland - to a network of over 1,200 Mizuno Fitters and Swing DNA Fitting Centres that rely on the Mizuno Shaft Optimizer and high-tech Swing DNA software to pinpoint each customer's best-performing specifications.
For further information on the new JPX919 Series plus Mizuno's full range of golf equipment, apparel and accessories visit: golf.mizunoeurope.com.
Related:
Six of the best putters for 2018