Eds Letter
Aug 24th, 2016
Why the Olympic no-shows should forget about 2020
AKA GolfPunk's Editor let's rip...
Words: Tim Southwell Photography: Getty Images
Golfers. Maybe they don' tknow everything after all... Just as Rory McIlroy Rory McIlroy had to back track on comments made earlier in his career that the Ryder Cup was "just an exhibition match", it seems he is reconsidering his stance on golf at the Olympics.
Having shunned Rio "due to the Zika virus" and stated he would't even watch the tournament on TV, he's suddenly seen the light and – with one eye on Tokyo 2020 no doubt – begun the grovelling process.
"There was more people at the golf events than there was at the athletics," said Rory Speaking ahead of Thursday's PGA Tour play-off event at The Barclays, Beth Page Black  in New York. It was good to see. To see the crowds and see the turnout, I was glad to be somewhat proven wrong."
Hang on a minute, I thought the only reason you didn't go was because you were worried about the Zika virus, not poor attendances?
"It seems like it was a great atmosphere down there," added Rory. "I thought golf was sort of going to get lost a little bit. It was away from the village; I thought it was going to just sort of blend in with everything else."
So it seems Rory's lack of interest in representing his country at the Olympics was less about the thrat of mosquitos and more about the threat of looking like a berk walking down thinly-lined fairways and half empty grand stands. I get that, no one wants to look like they've backed a loser, but this is the Olympics, not the Russian Open. A little bit of pioneering spirit from the world's highest ranked golfers would have gone a long way in helping golf get re-esatblished as an Olympic sport.
When I first heard that golf was going to be back for the 2016 Olympics I genuinely thought it was fantastic news, a massive opportunity for the sport to make a big and sudden impact. Finally here was an chance to showcase the great game to the entire world.
Moreover, all of us in golf: the media, the players, the governing bodies, had a duty to make the absolute most of it, embrace it 100% and break out the international golf bunting.
Just as I had absolutely no interest in archery prior to getting sucked into the mens' team event at 2am last Tuesday (those Koreans know how blaze up the jumbo dart board, I can tell you), I envisaged kids all over the globe being glued to the TV as the world's golfers went head to head over three/four days of mesmerizing match-play.
It would be like the Ryder Cup during which people who don't even like golf suddenly get it and are blown away, their preconceptions of 'a boring game played by boring people' replaced by admiration, awe and a demand to know when the next one is.
https://twitter.com/henrikstenson/status/757529174127116288
The Olympics, however, would have an audience which went way beyond the Ryder Cup's, and the ripples of excitement would turn into waves, with people taking up sticks from Tanzania to Telford.
Then I found out it was going to be four days of stroke play. What? How was that going to work? What chance now for the photo finish necessary to truly capture people's imagination?
https://twitter.com/bubbawatson/status/763150093478301696
It was on a plate for golf to make the Olympics a brilliant knock out team event (maybe with a mixed doubles final day as per Mel Reid's idea) where every shot means something and the TV directors are all of a dither trying to be everywhere at once with so much happening simultaneously, so much glory and pain thrown into this relentless ever-changing drama.
After a while I thought, 'OK maybe the format ain't right but golf is back in the Olympics for the first time since 1904 and it's going to be brilliant'. Maybe Tiger will be back by then (this was a couple of years ago!), maybe it'll be him v Rory down the stretch and the world will spurn the chance to see Usain Bolt break another record in order to see who will break par baddest. Ok, so maybe that's asking a bit much but they'd surely choose the golf over the hockey or the shooting? We would, at last, be right there in the mix.
https://twitter.com/martinhallgolf/status/765648606053429249
It was going to be a sensational couple of weeks for golf. Someone was going to win gold, silver and bronze for their country. The players would be champing at the bit to qualify. Those in the men's and women's world's 10s: Rory, Lexi, Jordan, Lydia, Jason, Charley, DJ etc were nailed on to be in Rio, but the real stories lay elsewhere.
Brazil's Adilson Da Silva for example. Da Silva, 44, started out in golf as a caddie at a 9-hole course in southern Brazil and turned pro as a teenager. He left his homeland to pursue a career, playing mostly in South Africa. He now competes on the Sunshine Tour and the Asian Tour and occasionally in Europe. He hopes to get a spot in the Omega European Masters in Switzerland next month.
For the past two years, da Silva travelled the world trying to earn world ranking points to assure his participation in Rio. The travel nearly wiped him out and it all put a heavy strain on his family. But he knew it would be worth it, these were his home games, a once and only chance to show Brazil that golf is something that Brazilians can do..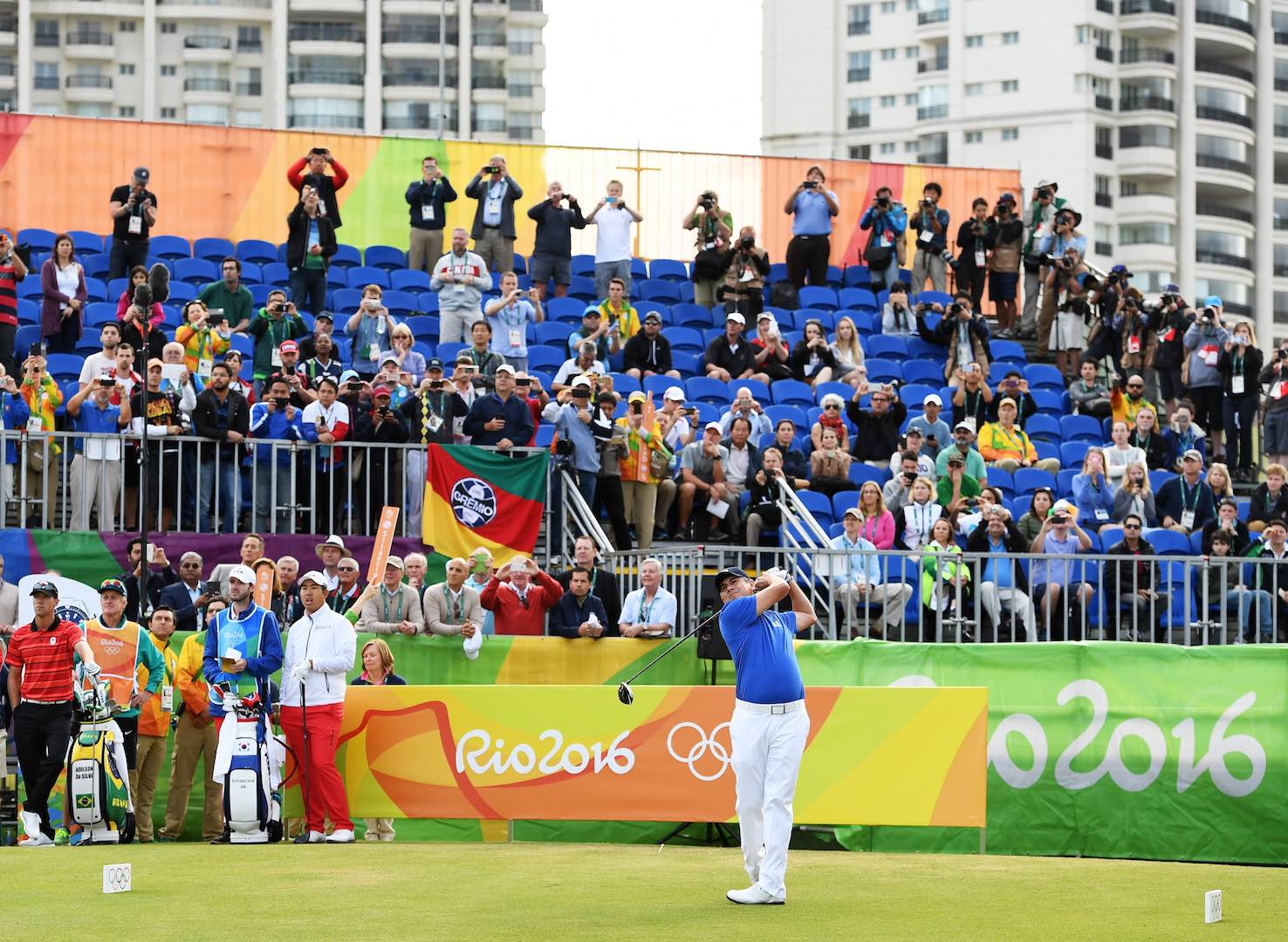 "It's a big step for Brazil,'' da Silva said. "To see so many people out here. Hopefully they get interested in golf. A lot of kids, nice to see. You need to start young. I started a little too late. We really need to get it going. And I think it's good for us.''
https://twitter.com/JustinRose99/status/763398464730501120
Another player who went the extra yards to make it to Rio is Matt Kuchar. After a missed cut at Bay Hill earlier this year, Kuchar dropped to 30th in the world, his lowest ranking in more than two years. At that point, he wasn't anywhere near the U.S. Olympic radar. But Kuchar dug in and demonstrated the Olympic spirit. He was desperate to compete in Rio.
He made eight top-10 finishes since Bay Hill, and scrambled back to 15th in the world, the exact number he needed to be at in order to have a chance to play in the Olympics. Then Spieth and Dustin Johnson pulled out and Kuchar snuck in as the fourth USA player.
"I had secretly fingers crossed hoping players would pull out," he said. "I always was thrilled, always had a hope I could make it. I made a great run, kind of just before the deadline.
"It's one of those things, as a fan of sport, it's kind of a boyhood dream," Kuchar said. "You think, 'wouldn't that be amazing?' If it wasn't golf, just something; what could you do to be an Olympic athlete? And to be here now, it's quite amazing."
But, crucially and rather sadly, Kuchar and da Silva's's innate desire to 'be there no matter what' attitude was not shared by everyone.
And here is where golf, or rather tour pro golf, really let itself down. Rumours started swirling about months ago that Rory was having second, third, then fourth thoughts, bleating insipidly about the dangers of the Zika virus.
Then Jordan started bleating about the same thing and before long you had a fairway full of bleating, self-serving professional golfers who basically couldn't be arsed. It all came a cross as a bit smug, half-witted even: "Do I have to go?... no? In that case I won't."
Some bleated about missing out on FedEx points, others that they had important sock drawers to rearrange that week. All of it came across as completely disingenuous and, after all the hard work getting golf re-instated, the sporting world had its chance to dismiss golf's validity in the Olympics.
The noise was deafening and frankly extremely annoying to be honest. So representing your country at the OLympics isn't important to you? Furthermore, you don't feel any obligation to help bring golf (which has made you and, as we all know, has had its problems over the last few years in attracting millennials) to a wider audience? And you're going to blame it on the Zika virus?
https://twitter.com/BBCJaneLewis/status/763440514037387264
You're worried that your girlfriend/wife/kids might get the virus and that you care more about them than ascending the podium at the Olympics? Fair enough, I get that. But in turn what you're saying is that you care more about the health of your partners and kids than the 1500 metre runners, the long jumpers, the archers, the hockey players, everyone else who will all be proudly traveling to Rio to compete.
You can say that Olympians only have the Olympics to imortalise themselves so they have to take the 'risk' and go to Rio, but this isn't so. There are the World Championships, world records and a plethora of high profile events for all these athletes to make their mark aside from the Olympics. But still they see the majesty of taking part in an Olympics.
Usain Bolt has done everything in his sport, way more than any of the golfing no-shows, and yet you think he would turn his nose up at Tokyo 2020 if his body is still up to it? No, he – like alll the golfers who grabbed the Rio chance with open arms – has imagination.
https://twitter.com/HullCharley/status/764740625870774272
By the same reasoning, all the guys who did go to Rio were all mad? Furthermore, they were all recklessly ignoring the health and safety of their love ones? Usain Bolt? Andy Murray? Justin Rose? Tosh and trumpery. All sounds a bit self-serving doesn't it?
And with Zika cropping up in parts of Florida, will these same golfers avoid the lucrative Florida Swing for the same reasons? These pros have become so insular, so conveyer-belt-led that they can't see the bigger picture. Or maybe they can but they just don't give a damn. You choose.
If I sound angry it's probably because I am. I spend endless time bigging up golf and golfers to anyone who will listen, harping on about the honesty, the calling shots on yourself etc, the reasons why professional golfers are morally a cut above the ikes of Premiership footballers. Then this happens. 
There's no doubt that these people have let golf down in a massive way but history has shown we shouldn't really expect much more of them. Rory, remember, called the Ryder Cup "nothing more than an exhibition" before he became involved in the event itself. What must he think of those comments now?
Talk to any of the Ryder Cup stars of the last 20 years and they all talk about the 'team experience', the fact that it is like no other event. After the event they are different. They have had a life changing experience that they will never, ever forget. Rory, Jordan and Dustin Johnson have all experienced this and ought to have had the imagination to see how the Olympics could be one of these rare life changing experiences.
https://twitter.com/Lexi/status/756223043286990848
So when the social media world was ablaze with pictures of the Olympic golfers at the Opening Ceremony in Rio last week – Justin Rose partying with Andy Murray, Rickie Fowler with Michael Phelps, Martin Kaymer with Simone Biles, my disappointment turned to elation. Just as we suspected, golf going to the Olympics was an extremely good idea after all.
A unique, life-changing experience was being had by proud patriots of their nations. When they got the call, they mounted up and headed for Rio, possibly destined for immortality. Anyone who had the temerity to turn down this chance, this celebration was not going to be missed. It was time to get our Olympic golf on.
And talking of Justin Rose, didn't he just epitomise everything that is good about sport, everything you want your tour pros, your Olympians, your footballers to be? While his peers were sitting at home fiddling with their back swings and avoiding the TV in case the saw how awesome the Olympics was, Justin Rose was embracing every second of his experience.
When the announcement was made seven years ago that golf was bound for Rio, Rose declared there and then that he would do everything he could to be there.
The guys that didn't bother – drawing wrath from Gary Player and Jack Nicklaus amongst many others – ought to have been holding their heads in shame prior to the Olympics. Post the Olympics they are surely having serious conversations with their agents and advisors as to why they weren't urged to go.
Imagine if Ian Poulter hadn't been injured. You think he would have hidden behind the Zika virus as a reason not to represent your country? Mmmm, me neither. Poulter never got the chance. Others spurned theirs and now they are all talking about how they are excited by the prospect of the 2020 Olympics, like it's suddenly safe to go into the water.
The IOC should ban the lot of them. They had their chance and they couldn't be bothered. If it wasn't important in 2016, why is it suddenly in 2020? What, just because some honest operators went and did a reccie for you? Are you too good for your Olympic Home??!
https://twitter.com/TeamUSA/status/763087155472261120
And back to Justin Rose. We could all see how much it meant to him, Henrik Stenson and Matt Kuchar as they battled it out down the stretch on Sunday. It was a quite breathtaking finale, temporarily diffusing my earlier contention that it should have been match play. 
Hell, it was match play as the lead swung this way and that. Justin Rose prevailed. The Brits celebrated and soon Rose was standing atop the podium with the national anthem roaring out into the Rio sky.
What's more, over 10 million viewers in the UK were watching Rose receive his medal on TV, a figure that dwarfs any major or Ryder Cup audience. (See panel below for USA viewing figures)
When Inbee Park, Lydia Ko and Shansan Feng had completed the womens' event, it had been witnessed by the largest TV audience ever for a women's golf tournament. 
And when does a golfer have the chance to see his or her nation's flag ascending into the night sky with their national anthem blaring out? The Olympics, that's when. And only then. When Justin Rose beamed up at the Union Jack flowing majestically above the flags of Sweden and the USA he had that look, the look that says "Wow, I did that!"
And don't tell me the European national anthem rolled out at the Ryder Cup gets the players all unnecessary in the same way. It ain't the same. The Ryder Cup may well be the greatest team event to watch on TV but as an individual, having your own country's national anthem blaring out because of what you did as an individual, well, that's something else.
Justin Rose and all the pioneering golfing Olympians in Rio experienced just that - something else. And they are Olympians for all time.
In the immediate aftermath of the games several no-shows made the effort to congratulate the medal winners.
"I did get one from Rory, absolutely," Rose said. "He was very, very proud and said he was rooting for me and could see how much it meant to me. He was very complimentary - and yeah, obviously he did watch! He made the point that he really wants golf to succeed as an Olympic sport."
Errrm... nice one, Rory...
After all is said and done, some of the world's best golfers didn't take part in the 2016 Rio Olympics, the first in 112 years. Did it matter that they weren't there? Prior to the Opening Ceremony I would have said yes. Then it started. And the golfers who qualified received their GB golf bags, their USA tops, their Columbian branded golf balls. They were part of something. Something big.
Then they took part in the ceremony and found themselves part of a team, their national team. Clearly it felt good. Different. Unique. From that point onwards it was about who was there and when the golf carnival rolled into action it delivered four days of quality action and a tremendous climax with three of the world's best going head to head. 
At the other end of the spectrum, Jason Day summed up his Olympic experience thus: "I didn't watch any," he said. "Not one shot, until the last hole. It was great to see Henrik and Justin duel it out. Kuch had an amazing run on the last day, and it looked like it was a very successful opening for golf to be back in the Olympics"
Jason Day is 83...
https://twitter.com/EuropeanTour/status/766389543377469440
TV figures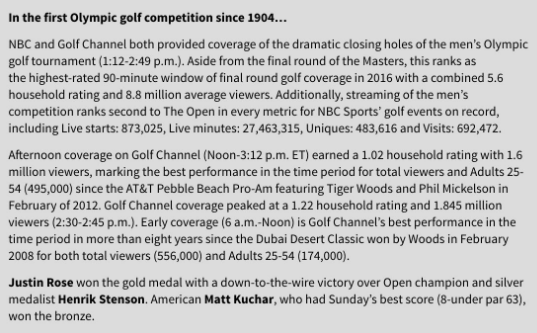 TAGS: Olympics 2016, Rio 2016, Justin Rose, Eds Letter, 2016, Rory McIlroy