Eds Letter
Nov 6th, 2018
Why Bryson DeChambeau is destined for World No1
The man is, quite simply, on fire...
Words: Tim Southwell
With his victory at the Shriners over the weekend, Bryson DeChambeau has now won three of his last five PGA Tour events. Throw in his win at the Memorial in June and he's won four of his last 12 starts. 
"You know, I thought I had it in me but I didn't know I could do it," DeChambeau said of this run from June-November. "There is obviously a lot of things that have to go right for you to win on the PGA Tour. It's very, very difficult.
https://twitter.com/PGATOUR/status/1059219231097516033
"I learned the hard way my first year and a half on tour missing 14 cuts in a row, and I realized I had to change my game if I wanted to compete out here. Last year I saw some signs of something great, and I didn't know what it meant. Didn't know where it would lead me. It certainly led me I think in the right direction I think so far."
Ah, yes, 2017. As he celebrates yet more success in 2018, my mind is cast back to April 2017 and The Houston Open. I was on the range watching Phil, Beef, and Rickie launching drives when I noticed a lone, almost forlorn figure over by the short game area.
https://www.instagram.com/p/BnSG1EIjfW-/?taken-by=pgatour
It was Bryson DeChambeau. You're always going to notice Bryson DeChambeau: Top to toe in PUMA with his trademark flat cap, the Golf Scientist is always doing something on the range or practice area that has you wondering what the blazes he's up to.
Whether he's sizing up putts like he's laying down plans for a series of intricate suspension bridges, telling us that we should leave the flagstick in when putting when the law changes in 2019, or hitting his one-length irons on the range with that rigid, rather painful looking golf swing, Bryson does everything differently. 
On this occasion, though, he wasn't up to much. In fact, he was in a pretty bad way, stranded in the eye of a golf storm that saw him miss 11 cuts in a 15-start stretch. As he practiced chips he looked, quite simply, lost. I watched him for about 25 minutes during which time he didn't speak to anyone, just kept his head down trying to rediscover whatever it was that was eluding him.
I had half a mind to go over and say something encouraging to him but thought better of it. I figured that the whirring machines clashing in his brain as he tries to get out of his slump might explode if any more information had to be computed.
You suspected that the golf scientist approach was backfiring, actually restricting his ability rather than enhancing it. The one-length clubs suddenly didn't look like such a great, obvious, idea. How the naysayers of the golf world were chortling at his demise, offended as they were by DeChambeau's attempt to apply science to their religion.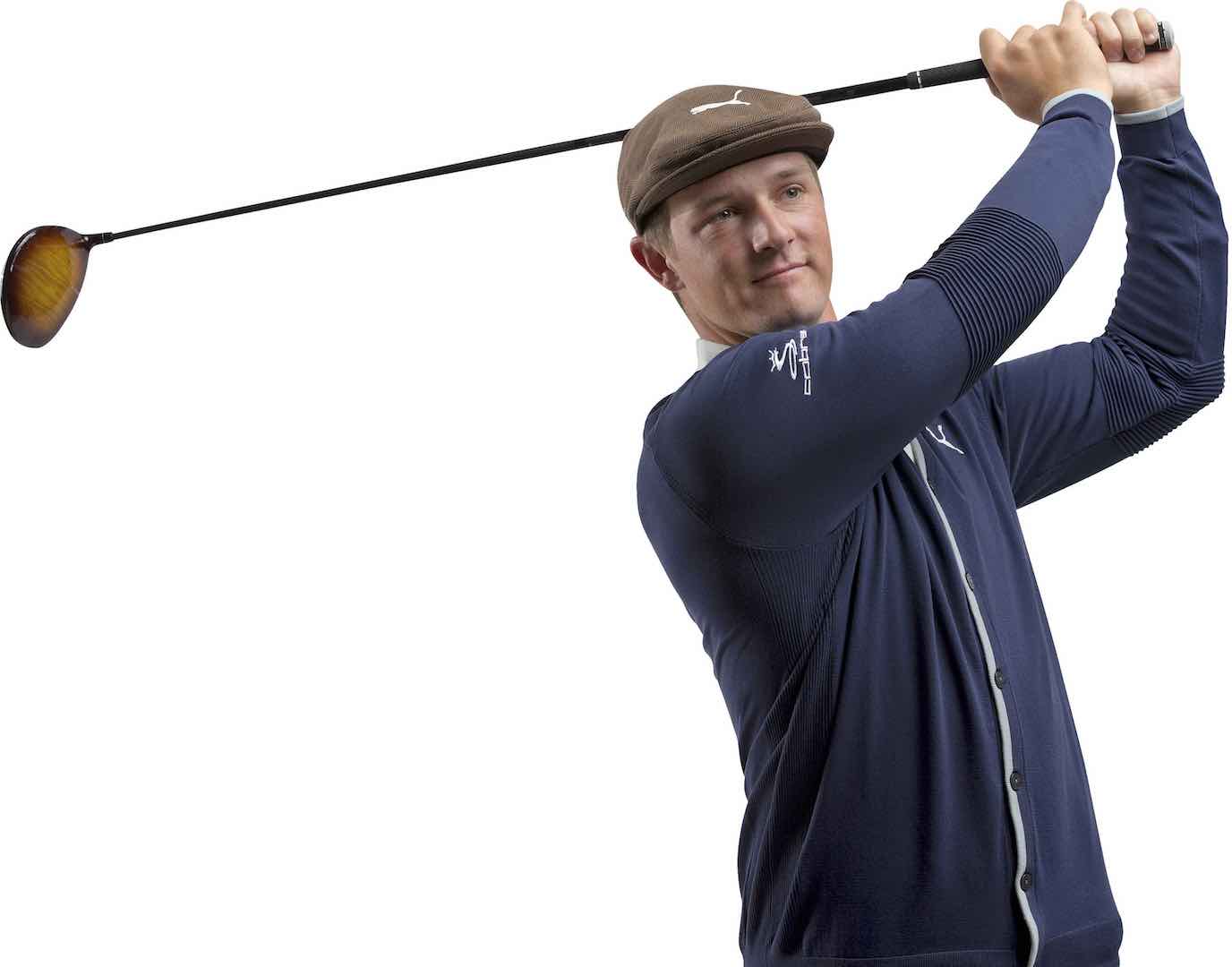 DeChambeau made the cut in Houston but then missed the next eight in a row. It was nasty to watch. But he was convinced his hard work on the range was making the ship begin to turn and he finished 26th at the Travelers, 14th at the Greenbrier before the following week, on the 16th of July, he shot a closing round 65 to win his first PGA Tour event, The John Deere Classic. 
2018 has been unbelievable: Nine top 10s including four wins: The Memorial in June, followed by the Northern Trust and Dell Technologies Championship, and now The Shriners.
https://twitter.com/PGATOUR/status/1059403703906643969
At 2017's Houston Open, Bryson was 107th in the World Rankings. Today he is 5th with only Justin Thomas, Dustin Johnson, Brooks Koepka and Justin Rose standing in his way to the pinnacle. The way things are going we are surely going to see Bryson DeChambeau at golf's summit some time in 2019. This golf scientist thing might just have legs after all.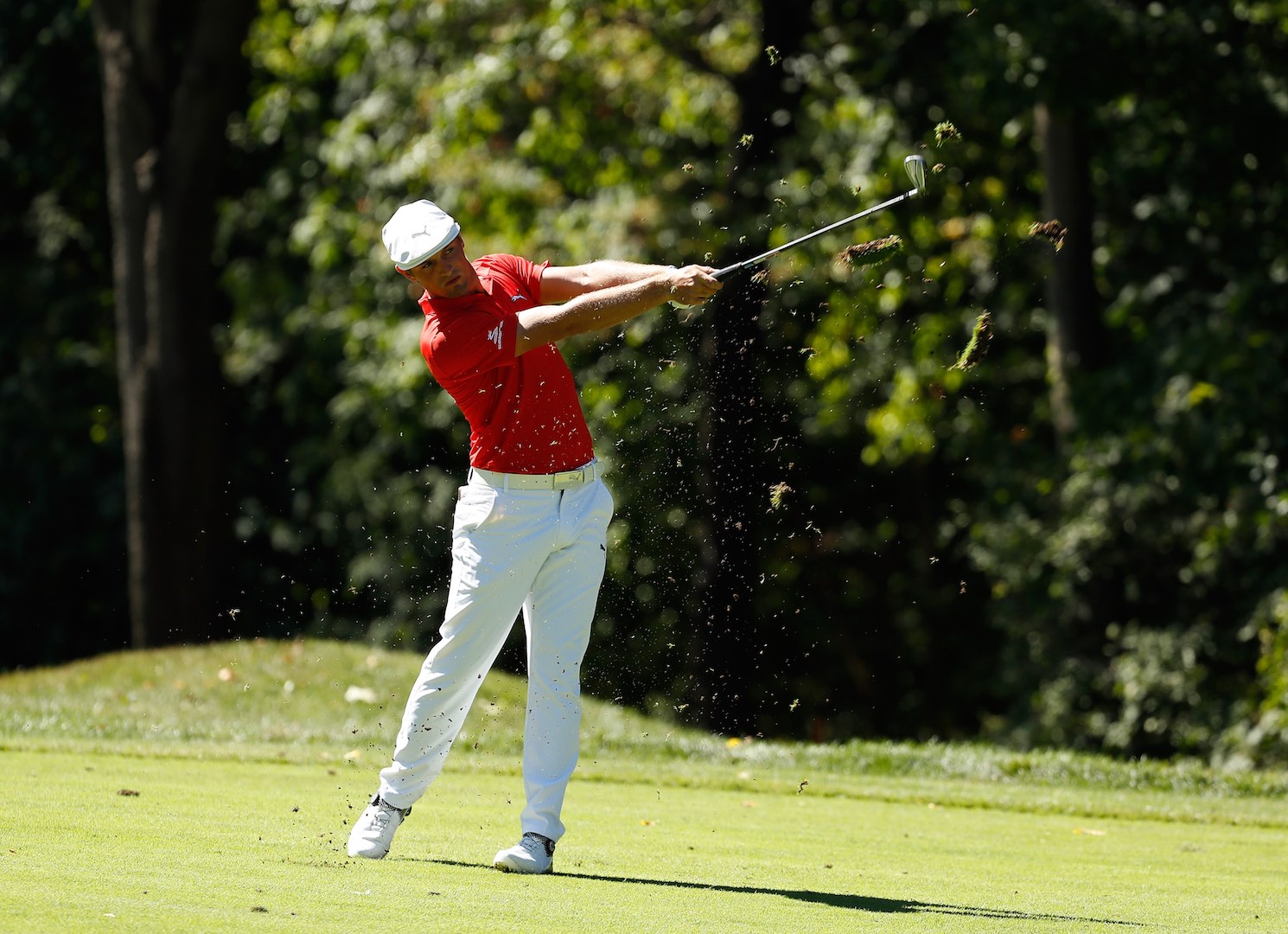 After stunning the world by winning both of the opening FedEx Cup tournaments (the first player to do so since Vijay Singh (2008), Bryson DeChambeau wanted to talk about gravity.
He wanted to but he knew the assembled press hacks might quickly be wondering if they'd wandered into the wrong press room and were actually attending the latest seminar at The Boffin-Central Annual Science-Off.
"That gravity actually pushed outward and not inward," said Bryson to a sea of bewildered journalists. "That's going to throw you guys for a loop," he added. He's not kidding!
Us mere mortals might prefer to call it momentum and try not to over complicate things for fear of losing your grip on your game. But Bryson is not your average tour pro.
https://twitter.com/b_dechambeau/status/1059282307046170624
Asked about his troubles in 2017, Bryson is as candid as he is unflappable: 
"Look, I was at a different level at that point in time relative to last year at this time," he says. "I was still hitting the ball in the fairways but it wasn't up to my standard. And so I was trying to figure out why it wasn't up to my standard.
"I built something really, really consistent at the beginning of the year and I kind of lost it. Kind of got lucky finding it. And now I'm starting to understand why I was so good at the beginning of the year.
"And that's kind of a scary thought for me, at least, because it shows what I can do, and especially with the last couple of weeks. It's a good combination."
https://twitter.com/PGATOUR/status/1057755090633687040
With each win, the sceptics are becoming believers. Even his dad Jon has come around on it.
"When I was starting to do my one-length iron stuff, there were a couple of colleges that just stopped talking to me. Even my dad didn't think it was a great idea," DeChambeau said. "I love my dad to death, but we butted heads. But obviously, it works now."
https://www.youtube.com/watch?v=ppgYMcwNRnM
Asked if his dad uses single-length clubs now, DeChambeau smiled. "Yep." Since when? "About a year-and-a-half."
DeChambeau's final birdie at the Dell Technologies, at the par-4 15th, turned out to be the one that sealed the idea for him. A 3-wood struck 309 yards, then a wedge to inside 9 feet, then the birdie putt. Ancer. Rose. vanquished.
"That was it," DeChambeau said. "That's how I play golf right there. Make that birdie and come off the green confident."
Confident? I should coco. Not even the chastening experience of getting zero points from three matches at the Ryder Cup in Paris could dent his confidence. Mind you, he wasn't alone on the USA team in terms of Ryder Cup woes. Stand up Phil Mickelson and Tiger Woods.
DeChambeau is smart enough to know that, even with all the success he is having, he will still invite more than his fair share of criticism. 
"I've always been a guy that's been weird and unique relative to everybody else," he says. "… I've always gone about my business trying to do the absolute best I can. Let today's garbage be better than yesterday's.
"And so I don't view people's criticism as a negative thing. I actually view it as a positive thing because what people can't understand sometimes is actually a benefit to the person that does understand it."
To put DeChambeau's recent performances into context, his five wins in 71 PGA Tour starts is better than the following players: Jordan Spieth (76 events for five wins); Justin Thomas (90 events); Dustin Johnson (97 events); Jason Day (165 events).
The one area to be addressed is his performances in the majors. It's not been great. His best major performance to date was T15th at the 2016 US Open. I can only see that changing in the near future. The confidence of facing down the world's top players at back to back FedEx Cup events, combined with his extraordinary work ethic means it won't be long before we see him slipping on a green jacket or hoisting the US Open trophy. You can pretty much picture it.
I can't pretend to understand everything of what Bryson DeChambeau says. Or most of it, actually. What I do understand is that golf needs characters, individuals, remarkable people. Bryson DeChambeau qualifies on all counts.
All hail the Golf Scientist, World Number One and major winner in waiting.