Eds Letter
Aug 31st, 2016
I kissed a golfing German. And I liked it
GP Ed's Medinah memories & 2016 hopes...
Words: Tim Southwell Photography: Getty Images
The last time I kissed a German I was on a school exchange in Dusseldorf in 1979. I can still see Elke now with her peroxide blond Mohican and henna safety pin tattoo on her chin.
What's this got to do with the 2016 Ryder Cup? Read on...
Elke was one of Dusseldorf's small but dedicated group of punk rockers. She was a good looking, but somewhat terse lass, not prone to small talk. In fact, the only information i really got out of her in two weeks  her was that she'd been named after Elke Felten, a moderately  successful sprint canoeist in the 1960s.
'Wow,' I said, not knowing what the blazes she was going on about. "Yes," she replied. End of conversation.
Nevertheless she'd taken something of a liking to me and like all good English lads abroad for the first time, I was determined to get an international snog under my belt.
The nights were hot and anything seemed possible to a young man. 'What the hell?' I thought as she puckered up down by The Rhine: 'In for a Pfennig, in for a Mark' (this was before the Euro). What happened next made me vow never to kiss a German again.
All I will say is they grow up fast in Dusseldorf and, for a sensitive young English chap not long out of his Magic Roundabout jim-jams, it was all a bit of an eye opener – seriously, you couldn't have kept your eyes closed if you'd tried.
Anyway, the reason I bring all this up is because I'm just about to break one of my golden rules – never kiss a German unless you're 100% certain that your undercarriage is in good hands.
I'm sitting on a large grass bank across the water from the 17th green at Medinah. With me are USA GolfPunk Editor-At-Large Taylor, and GolfPunk Germany Editor Jan. It is the climax to one of sports' greatest ever days.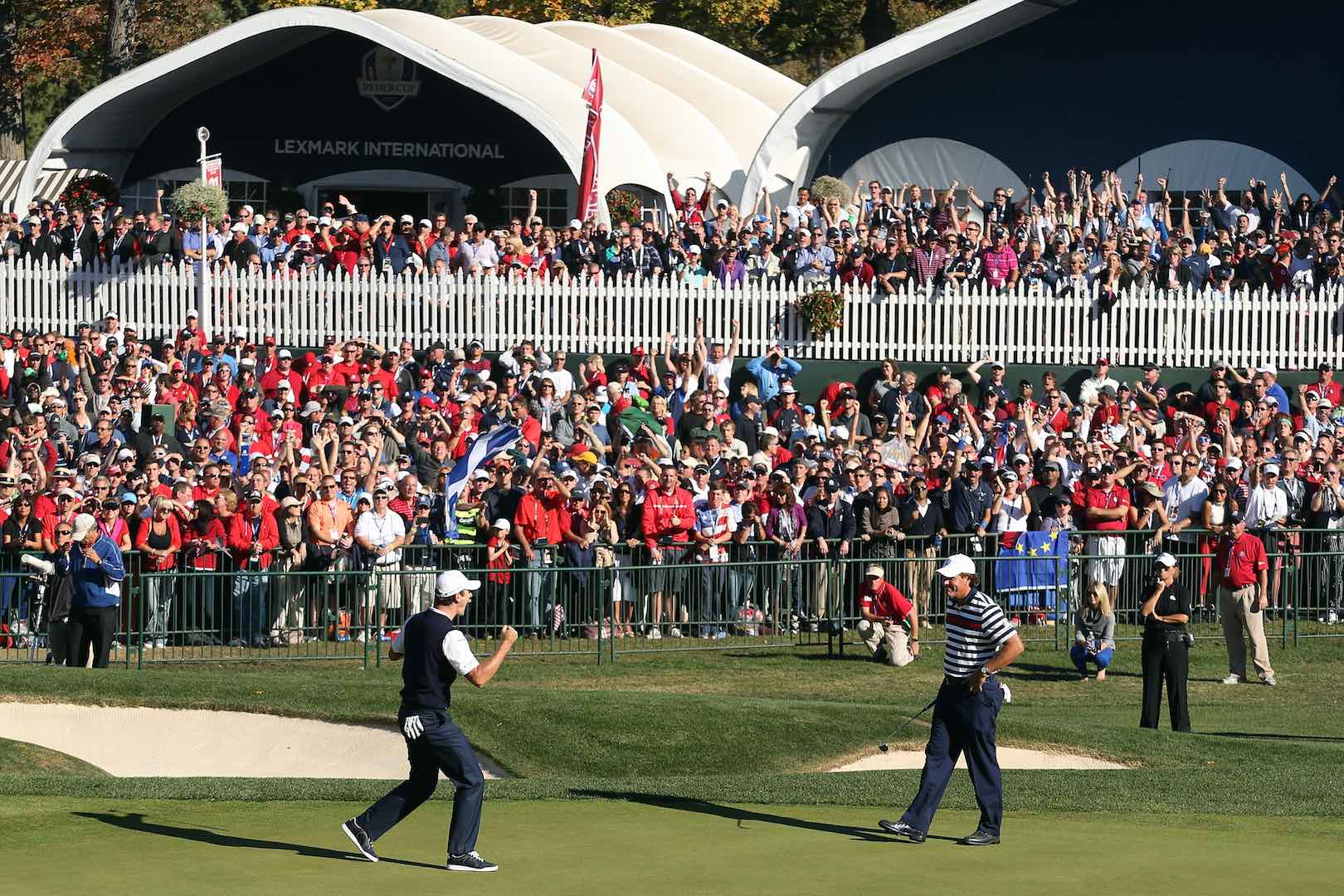 Against all the odds, the European Ryder Cup team are on the brink of completing the Ryder Cup's  biggest comeback.
10-6 down overnight, they have somehow hauled themselves back and Germany's Martin Kaymer stands over an eight foot putt which would take Europe to an unassailable 14 points and ensure that the cup returns to Blighty. I mean, Europe. 
We are watching the putt on a small portable TV screen. That's the one thing with the Ryder Cup, it's virtually impossible to know where the pivotal moment will unfold and, along with most of the other 60,000 fans at Medinah, we decided against any attempt to cross the bridge over to the 18th fairway in the hope that we could somehow get there in time AND find a space in the crowd to peek through.
There were so many people on the bridge it would have been quicker to swim it. So we sat on the bank and stared at this little TV. 
Jan is particularly nervous. This could be massive for German golf. Earlier in the week Kaymer had spoken to Bernhard Langer and promised that, if it came down to him having to hole the decisive putt, he would not let him down - he would do his best to help erase the memory of Langer's tragic missed putt that cost Europe the War on The Shore in 1991.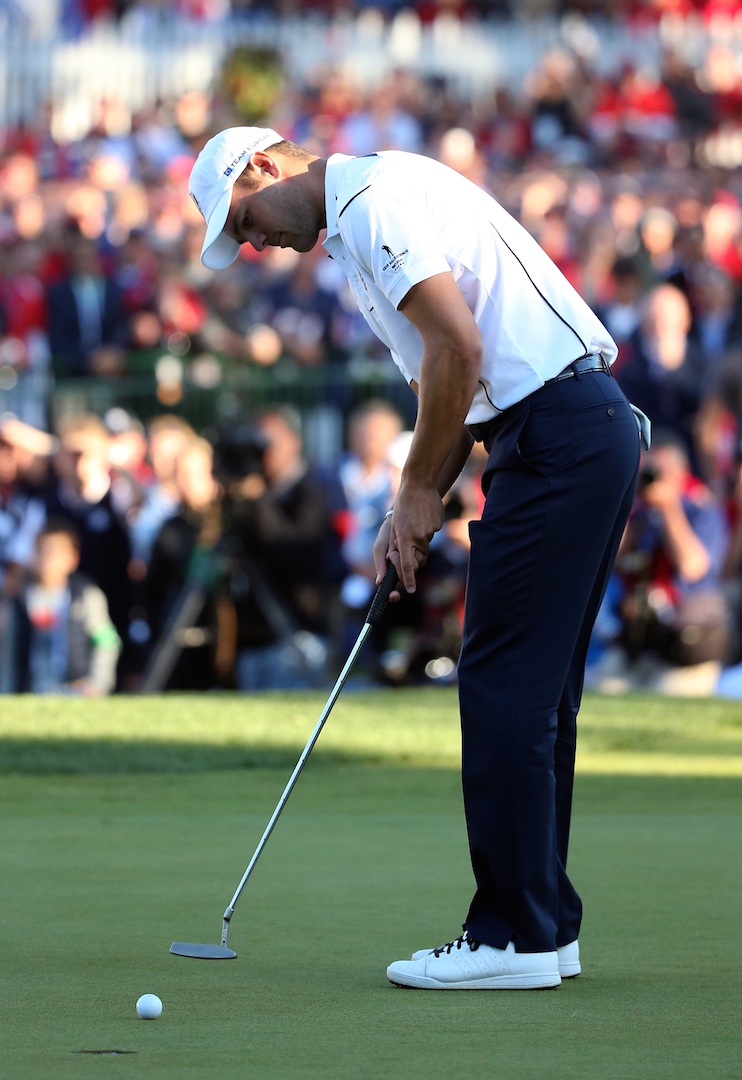 Bernhard Langer made a gigantic contribution to European golf, and that excruciating image of him doubled up in anguish in 1991, is no epitaph for him. Nor indeed for German golf in the Ryder Cup.
So it's down to Kaymer to deliver the single blow that will crush the Americans and have them jigging and reeling from Berlin to Bohn.
The next thing I know I'm leaping about the bank and hugging Spaniards and Belgians and people from Norfolk.
Kaymer's done it. He's bloody done it. Jan and I hug like long lost brothers. Give us a kiss you sausage-breathed ball of efficiency! Yes. I did. Yes. I kissed a German. Again. And I liked it! 
Taylor, the poor sod, is just sitting there on the bank like a stricken pensioner on a packed dance floor. The Europeans prance and leap and embrace and roar a series of exhaled expletives. It's unmitigated chaos. Glorious, unmitigated chaos.
At the start of the day, Taylor had been almost apologetic: "I just wish it was going onto be closer for you guys," he said as we boarded the bus to the course. "I mean, you've come all this way and it's so one-sided."
Now Taylor is not your gang-ho whoop whoop whoop kind of American. He's into English football and proper music. In fact, not very deep down at all, he kind of prefers the European team's honest grit and camaraderie to the USA's 'God shone his light on me today and made me a winner (thereby turning his back on all the sinners who finished 2nd to 71st)' mentality. 
Taylor, along with the rest of the vast army of USA golf fans, is stunned. As the European fans dance jigs of delight the Americans file silently away into the evening sunshine. There's no animosity, just an overwhelming sense of complete and utter disbelief. 
"What happened?" asks Taylor. "I mean, did that really just happen?"
We've all seen it with our own eyes. We are actually standing here at Medinah and yet no one seems able to quite comprehend what has unfolded.
"Ian F*&%*£*@! Poulter," someone says. "Yeah," says another, "Justin Rose!". "And Paul Lawrie?!! He destroyed Snedeker." 
The USA fans are beginning their own count back. "F*&%*£*@! Tiger..." seethes one. "F*&%*£*@! Stricker, I mean, what the? I mean.....what?!"
Of course Taylor was right earlier. It was going to be a procession. The US were too far ahead and they simply didn't capitulate in the singles. And besides, they were due, weren't they?
They'd only won once in the last eight Ryder Cups. And they had a great team who'd outplayed most of the European team for the first two days. Only the relentless determination of Poulter and Rose, the brilliance of Nicky Colsaerts (and occasional bursts of excellence from McDowell, McIlroy, Garcia and Donald) had even vaguely kept us in it.
Keegan Bradley had emerged as the US team's talisman over the first two days. He seemed to be everywhere, offsetting Mickelson's goofy grin with a snarling intensity.
We all loved Bradley's fist-pumping mentalism and his Charleston-cha-cha-cha-shoe-shuffle pre-shot routine(s). Until it started getting annoying. Until it became so irritating that you just wanted to walk over, pick his golf bag up, chuck it on the ground and scream "just get on with it!" 
In fact, the USA was a team full of major winners. A team full of attitude. Davis Love? Well, I couldn't really say I had an opinion about Davis Love one way or the other.
I had no idea whether he'd be a good captain or not, by the USA team looked like team that was ready to win again. That, and the fact that the matches were to played in the sports-mad, passion fuelled caldron of Chicago.
And now Davis Love III is back in charge. After the unfortunate dramas surrounding Tom Watson at Gleneagles, the US selectors clearly see an opportunity for revenge for Love who must be licking his licks at the prospect. They are clear favourites this time.
But then this is always the case when we play America. When the European guys get on the plane for Hazeltine in a couple of weeks they will be odds on favourites. To lose that is. I mean, just look at it on paper. We have great players in the European team but we also have six rookies. Comparing and contrasting the two teams (on paper) does not bode well for Europe.
The bookies don't get it wrong too often and they are currently offering just less than 2/1 on a European win at Hazeltine. Decent odds in a two horse race and indicative of the fact that the USA team is stronger than the European team. On paper.
Thank god we play the Ryder Cup on grass. Personally I think it is going to be the most fascinating start to any Ryder Cup I have witnessed. The Americans will be under pressure to put the rookies to the sword early on. The longer the rookies resist the more fascinating it will get.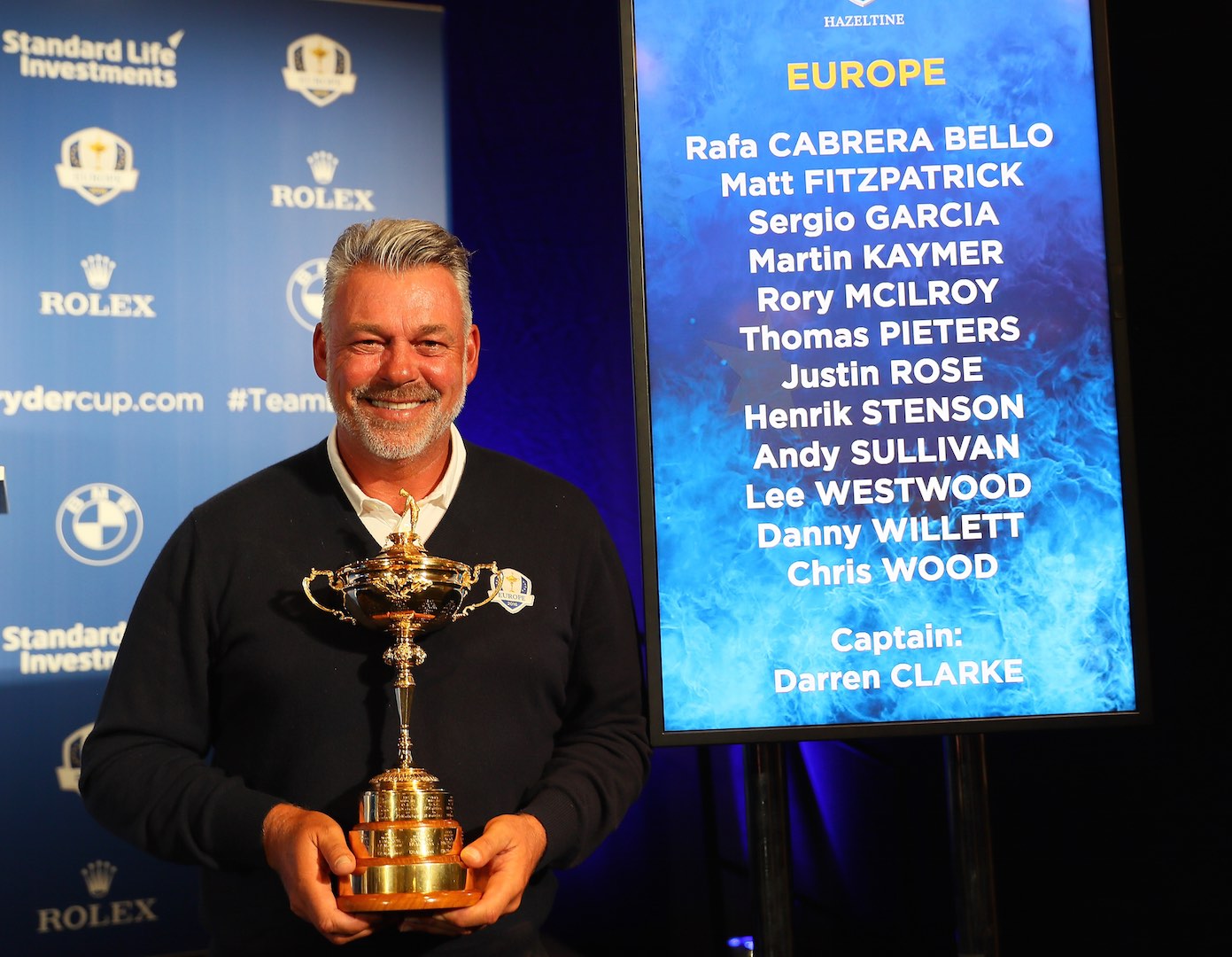 If it goes the other way and 'nailed on' US players are humbled by the likes of Fitzpatrick, Wood and Pieters over the first couple of sessions, who knows what kind of outcome we will see?
My head says USA will win this one. They are due. Having said that, they were due last time. And the time before that. And the time before that. My heart obviously says Europe will continue their remarkable dominance of recent years. If Europe are to win it will surely be very close.
Let's hope so. It's the one event of the golfing year that draws TV spectators from all walks of the non-golfing world. If it's tight it'll be crazy. Punk Cold Medinah crazy!