Eds Letter
Mar 30th, 2016
Ed's Letter: All hail Col Swatton
All hail Col Swatton
Words: Tim Southwell Photography: Getty Images
Editor's letter: Colin Swatton and his remarkable relationship with PGA champion Jason Day.
The story of Col Swatton and Jason Day is, quite frankly, the kind of thing you might find in a film with an overly ambitious plot-line. The cynic in you says 'what, you think I'm stupid or something?!'. 10 minutes later you're right there with them like they're your long lost brothers, willing them to overcome the adversity and finally succeed.
Jason Day's best shots at Whistling Straits 2015
https://www.youtube.com/watch?v=D-3_Z1ORus4
When Day was 12, his father Alvin died from stomach cancer. This proved the trigger for Day Jr to go spectacularly off the rails; drinking, street fighting, sleeping in gutters were a standard part of his sad routine.
Day's mother had a choice. Let this continue or take out a second mortgage on the family house and get Jason the hell out of there. She borrowed the cash and put Jason in a boarding school, Kooralbyn, a golf-centric establishment in south-east Queensland. Adam Scott is another famous alumnus, as is the former Olympic sprinter Cathy Freeman.
This is where Swatton – Day's caddie, lifetime coach, mentor but at that stage Kooralbyn golf instructor – came in. On the pair's very first meeting, Swatton asked a group involving Day to take part in a short-game drill. Day kicked off. He wanted to play the par three course. Swatton told him to go do what he wanted.
The Jason Day story
https://www.youtube.com/watch?v=V_SugpKp-bQ
Later, tail between his legs, Day returned and apologised, a move which convinced Swatton that, beneath the truculent teen angst, there was something honourable about this young man.
Within months the rest of the students couldn't get near him. His work ethic was second to none and, after Swatton moved on to the Hills International College and his muse followed him, Jason Day quickly became one of the best junior amateurs in the world.
From day one, Swatton knew that Day was a rare talent but that was never going to be enough. At each cross road in Day's path, Swatton seems to have been the guy saying "You don't want to go down that way, mate".
Swatton has been Day's golf teacher and life mentor for all of the subsequent 14 years. When you see pictures of Day collapsed at Chambers Bay, it is Swatton over him, protecting him like a father would his son, screaming for paramedics.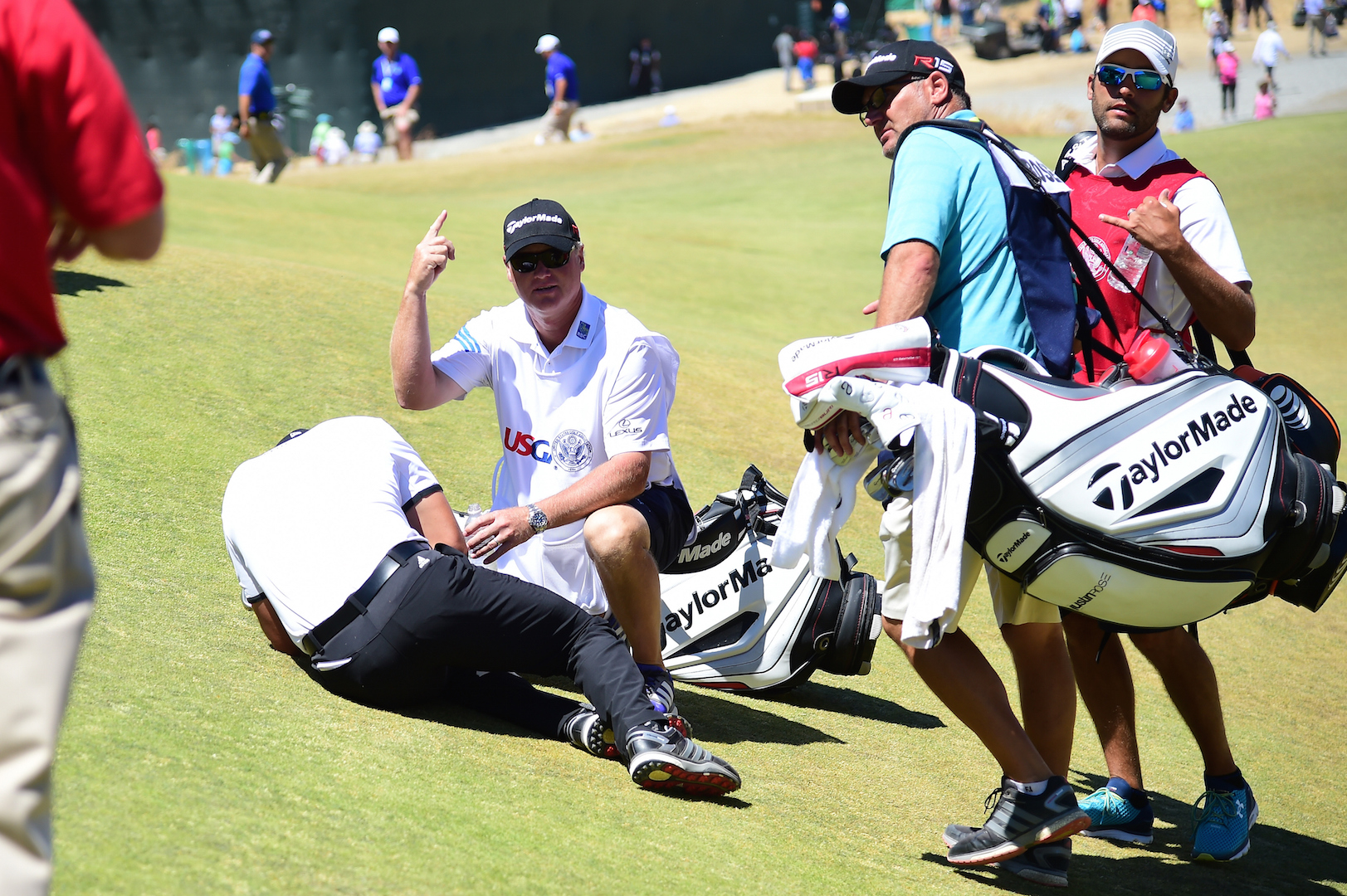 Despite having collapsed from this attack of vertigo, Day showed the kind of class instilled him by issueing a statement apologising for not completing full media duties at the end of round three. It was unnecessary, given his obvious health and energy issues.
Day refers to Swatton as "family". He added: "It feels like he is my right arm. I couldn't play golf without him." Before that third round, a matter of hours after Day had collapsed on the final hole of his second, Swatton took Day aside and said simply:. 'You've got the heart of a lion. You're going to show the world today you're going to be the greatest you can be.' And I said, 'Let's do it.'
"And he just put his head down and kept walking one foot in front of the other. It was pretty impressive. I kept feeding him water and giving him food, just giving him encouragement, just trying to get him through. I said to him, 'They're going to make a movie about that round.' It was pretty impressive, it was up there with Tiger Woods playing with a broken leg at the US Open. It was very impressive."
At Whistling Straits, if ever a caddie was going to be able to provide that critical advantage in the storm of golfing combat, it was Swatton, the sounding board, the cool head, the mentor.
It was no surprise when the two of them ended up a blubbering mess when Day secured his first major title. The two add up to far more than their constituent parts. Apart they are good. Together they are something special. Together they won the Wanamaker Trophy, and together they will surely win many more major titles.
"On the 18th, all I said was, 'I love you,'" Swatton said after the round. "And he loves me, and we were just a blubbering mess. It was pretty cool."
Not only that, they recorded the only 20-under score in major championship history.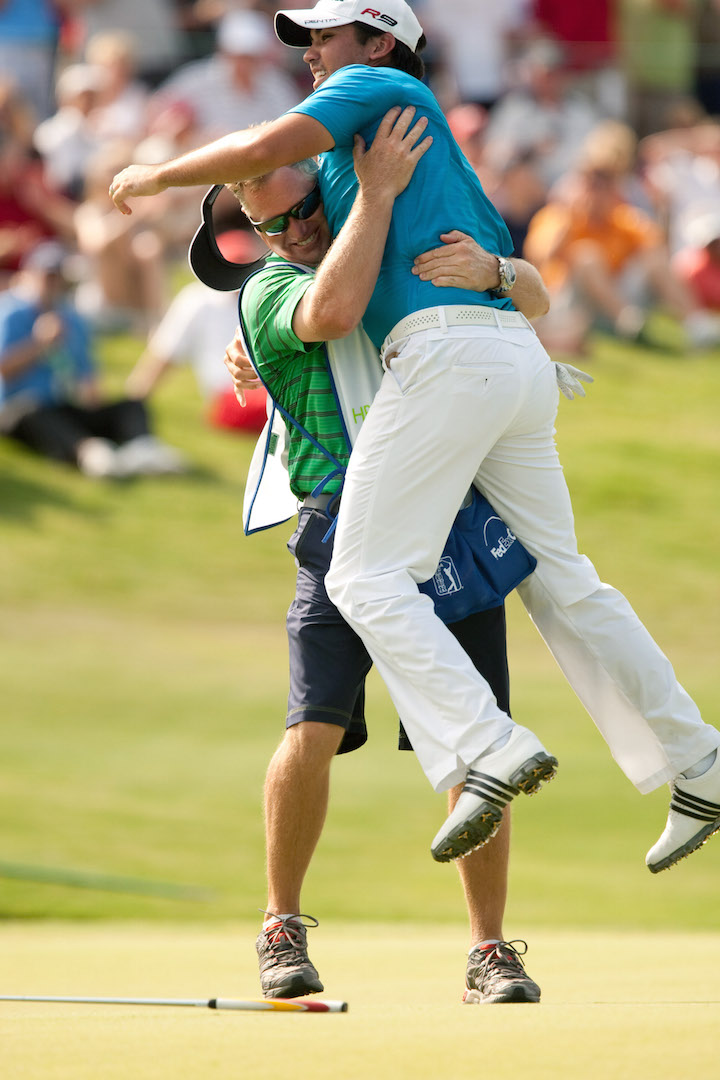 "He's been there for me since I was 12 1/2 years old," Day said after his victory. "I mean, he's taken me from a kid that was getting in fights at home and getting drunk at 12 and not heading in the right direction, to a major champion. And there's not many coaches that can say that in many sports. So, he means the world to me. I love him to death."
The moment that Jason Day's father retrieved an old 3-wood from a rubbish heap and brought it home and presented his son with his first golf club was a big one. You gotta start somewhere and someone has to flick the switch. From that moment Day was hooked on golf, and though it was very much 'up and down' for a while as he struggled to destroy his personal demons, golf provided Jason Day with redemption. Swatton was the man trusted with completing this redemption and, arm round the shoulder, help propel Day to greatness.
"This seals it. This seals the whole year basically," Swatton said. "This makes me incredibly proud. To stand on the 18th green and share that moment...I knew with the work ethic and the drive and the motivation, the skills would develop over time. He'll continue to grow and get better."
Representing for all the GolfPunks All Across The World: Col Swatton.