DP World Tour
Apr 24th, 2022
Jamieson leads rain delayed ISPS Handa Championship
Scot leads by one after five holes of third round
Photography: Getty Images
Scott Jamieson remained at the top of the leaderboard after playing just five holes of his third round at the weather-affected ISPS Handa Championship in Spain, where Canadian Aaron Cockerill holed an eagle putt to close out a stunning 62 and move within one shot of the summit just moments before the final klaxon sounded.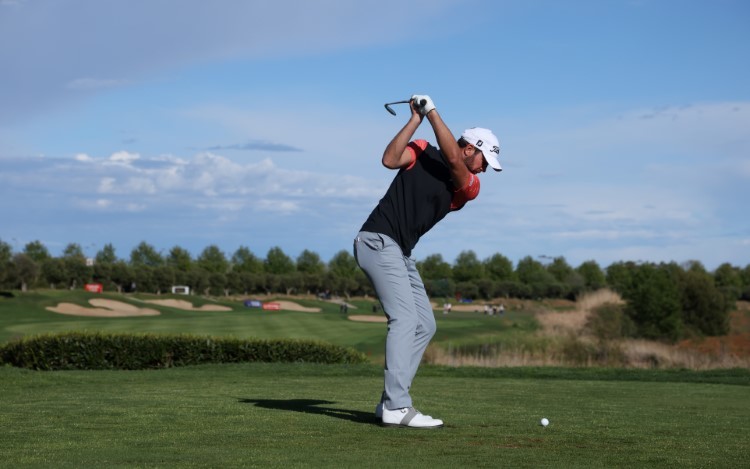 Play was delayed for a total of four hours and 48 minutes on day three at Infinitum as storms passed continually through the Tarragona region, and Jamieson - the leader by two strokes heading into the weekend - only teed off his third round at 5:33pm local time.
The 38-year-old bogeyed the first but picked that shot back up with a birdie at the third, and he reached the sixth green in level par before play was called to a halt one final time at 6:58pm as the thunder began to rattle once again. Jamieson ended the day as he started it, on an eleven-under total heading into Sunday.
"It was a nice start to the day to see Rangers win alright, but it was a kind of frustrating day then when you're starting and stopping like that, but what can you do," said Jamieson.
Cockerill was unperturbed by the delays, however, and the 30-year-old - who came through Qualifying School Final Stage at this venue in 2019 - made the only eagle of the day at the 18th to add to six birdies as he signed for an eight-under third round to move to a ten-under-par total.
"It was an awesome day, I played really well the whole day. I got into a bit of trouble on 15 and 16 but was able to save par but other than that I made a lot of fairways, hit a lot of greens, made a lot of putts – awesome day," said the Canadian.
Home favourite Pablo Larrazábal was one of eight players tied for third place on eight-under-par - all eight of them yet to finish their third rounds - after the six-time DP World Tour winner had opened with four successive birdies. He dropped a shot at the fifth and managed to make the turn in three-under before the evening storms moved in to force the players off the course one final time.
"Before the first suspension I made a good birdie at the first and then I turned on the motorcycle, four birdies in a row, then it quietened down a bit with three silly putts on the fifth but I continued to play well," said Larrazábal.
"It will be a long day tomorrow and let's see if we can finish the third round in good shape to get close and be ready for a long day, but a day that can be beautiful."
---
And another thing...