British Par 3
Aug 15th, 2017
GolfSpiv tees it up at British Par 3 Championship
Here's how he got on
Words: Nick Kevern
The alarm sounded at 3.30 am. Although I wanted nothing more than to throw the alarm against the wall I couldn't. My fellow Golfhacker, William Murfitt, is a punctual man.
We had agreed to leave at 4.30am and I knew he was already on his way. Groggy with a lack of sleep, I stumbled downstairs to make a coffee. It was a restless sleep as I knew what laid ahead of me. Today I was going to be making my competitive golfing debut at the British Par 3 Championship at Nailcote Hall. 
When GolfPunk asked me if I wanted to play in the event for an article, I didn't even need to think about it. I first went to the British Par 3 last year and had fallen in love with the event. Celebrities, professionals, legends of the game such as Ian Woosnam, and now, me. Before we continue it would be wrong to assume I'm a great golfer. I'd settle to be described as average but in truth, I'm a hacker. Now I'm playing with the best. Funny how life works out I suppose. 
Needless to say, Will was on time. He looked excited but even at this ungodly hour, the nerves were kicking in for me. Hopefully, they would settle during the two–hour drive. 
Arriving at Nailcote Hall we had about 20 minutes for a quick warm up before our 7.10am tee time. I met our playing partner, Ashley Mason moments before we began. As a young Euro Pro player from Leicester who had qualified for this event, I wondered if he was as nervous as me? He didn't look it. Cool and composed he nailed his first tee shot onto the green. It was a good thing he did as I went right missed the target. Thankfully there weren't many who saw it. The gates hadn't even opened yet. 
The rain was certainly getting heavy as it was beginning to show on the greens. Some were becoming waterlogged. By the time we got to the fifth hole, the hooter had sounded. Two bogeys, two pars and an awful six. It wasn't an awful start. However, we would have to wait for the rain to stop and the groundsman to do their magic before any play could resume. 
Sitting and waiting, that was all we could we do until the announcement to play came. Rather than sitting around though we thought it would give the chance to actually do some work. So we decided to interview our pro, Ashley Mason.
It was hard not to like him, we ventured to the clubhouse away from the others and had the place to ourselves. It was the perfect sanctuary. It was nice to chat away with him, his caddy and family. It's never easy starting your career in the cut–throat world of golf. There is no denying his ambition and the backing that he has in the form of his parents is priceless. You can see how proud they are and just how committed he is. Qualifying for this event can be difficult enough, now the news came that the first day would be reduced to nine holes. All the good work Ashley and I had done had been washed away. 
Arriving back on the tee at 1.10pm it had already felt like a long day. With the crowds growing it felt like a different event to the one we started at 7.10am. The nerves were beginning to show. The first shot was a stinker further right. I showed Will my hand straight after. 
"Look at that mate! I can't stop it shaking" I said as the nerves had clearly got to me. 
Ashley, on the other hand, was a man on fire. Whilst I continued to enjoy the experience, eventually making some good shots, Ashley was posting a great score. By the end of the day, we found out that we would be in the penultimate group for the final round. 
After the round, I told Ashley: "I promise I'll be better tomorrow mate." 
"Don't worry about it mate, just enjoy it." He replied in a calm manner.
He was right, we had a laugh and we are contending. He ended the day in fourth position and as a team, we were in the mid table. However, for him it is serious. This is his job and there are 50,000 Euros for the winner. Tomorrow is massive for Ashley, I have to remember that. Opportunities like this don't come much bigger for a young pro aiming to make his mark on the game. All eyes will be on him tomorrow, Sky Sports are even sniffing for an interview with him. In terms of potential sponsorships, it is a big deal. I was proud to be part of his team. I did some practice, I liked him and I didn't want to let him down.  
Having a later tee time is both a blessing and curse. A well needed lay in meant I was refreshed but it came with some pressure. We were in the contending groups for the championship and the crowds would be so much bigger than the previous day. On the plus side, I now knew what to expect. I was mainly thinking about Ashley, I hope he is ready for this. When we met, I knew the answer. He was ready. 
Whilst I had a shocking first three holes, Ashley had already made a push for the championship. A birdie on the first was a great start for him. It was time for me to actually prove my worth on the fourth hole. My wedge landed on the green. With Will's guidance on the putting line, I even made birdie. Boom! It was my highlight and no one will take that away from me. 
Ashley was putting together a great round. Three birdies and no dropped shots had seen him tie for the lead. All of a sudden, we were part of the story and it felt great. Whilst I was busy staring at leaderboards, Ashley kept his focus. Then we got to 16th. My shot hit the water. Ashley was on the green but it was a tough one. A three putt saw Ashley go back into second. 
He recovered with two pars on the final two holes. Either way, you look at it, it was a great round. Richard O'Hanlon held his nerve on the final hole to birdie and win the event by two shots.
As for the team event, well we finish in a tie for 25th out of 60. Not too shabby. I loved every second, from the shanks, missed chips, to the moments where I proved that I can actually play this crazy game.
But that was not the highlight. For me, the highlight was playing alongside Ashley Mason. What a guy and what a player. One day he will make his way onto the European Tour I have no doubt about that. When he does, I'll bore my family and friends about the time I was his team mate. 
Related:
Nailcote Hall owner declares his love of the British Par 3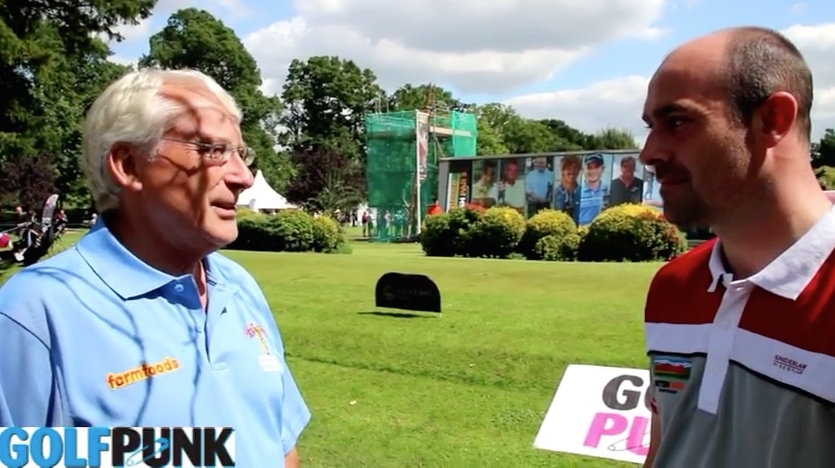 TAGS: Farm Foods Par 3 Championship, Golfspiv, British Par 3, 2017