Travel and Lifestyle
Jul 11th, 2017
Heythrop Park
The slumbering giant awakens...
Words: Tim Southwell
Me: "Right, come on you lot, we're going for a long weekend golf break to Oxfordshire."
Family: "Where we going?"
Me: "Heythrop Park."
Family: "What's that?"
Me: "It's a very large early 18th century house built in the Baroque style. Plus it's got a top notch spa and golf course designed by Tom McKenzie."
Family: "Sounds fancy."
Me: "Yes it is. Very fancy."
Family: "Does it have a pool?"
Me: "Yes, it's 20 metres long."
Family: "Do they do pizzas?"
Me: "Probably..."
Family: "Let's roll..."
You don't arrive at Heythrop Park, you emerge. After leaving the motorway, you meander through 440 acres of incredible Oxfordshire countryside for a while and then, suddenly, you're there.
Heythrop Park itself dates back to 1710 and is an imposing and impressive building which, given the additional assets of two hotels (DeVere Venues Heythrop Park and Crowne Plaza) golf course and spa, has seen it established as the must–go–to wedding venue.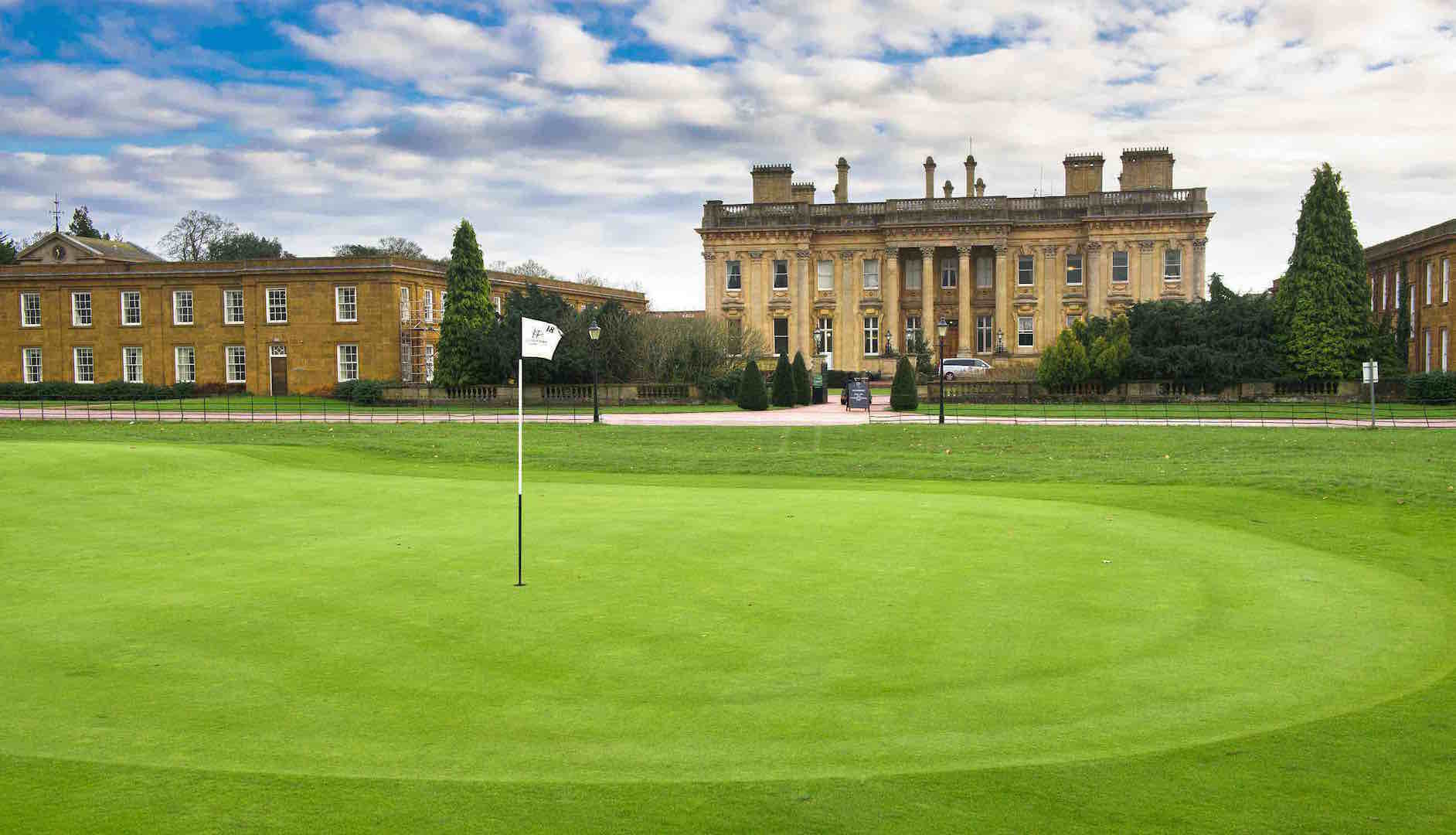 But we haven't come to get married, nor indeed watch someone else get married. We're here for the golf, the caper and some fine dining.
We arrived mid afternoon on a bright Autumnal day and immediately set about slotting in a bonus nine holes. Tom McKenzie redesigned the course in 2009 and we found it in excellent condition. This is where Thomas Detry won the Bridgestone Challenge Tour event in 2016. By 12 shots. At 29 under par...
So the course was definitely there for the taking. But we're quite polite like that, so we treated it gently, especially the corking back–to–back short par–4s (fifth and sixth) on the front nine on which we averaged double–triple.
The course provides a great walk as it winds its way through valleys, over ridges and alongside natural streams. The collective gander is definitely up for a full 18 the following day.
After our rousing 9–holes we completed our ablutions and went for dinner at the striking black & white Brassey restaurant. It's billed as the more formal restaurant but it wasn't at all stuffy and the food and service was phenomenal. Try the Seared Sea Bass Filet, it's enough to make a grown man burst out crying with joy.
If you don't fancy getting all smarted–up for dinner, check out the more relaxed Brassey Bar, The Mezz and The Charlbury Bar all of which offer a good choice of Fish & Chips; Bourbon BBQ Chicken Salad; Pulled BBQ Pork and, of course, pizza.
There's also a Champagne & Cocktail Bar in The Snug if you fancy a fizzy cuddle.
The next day we started on the back nine. Stroke index one is the 11th. You tee off on this 577–yard par 5 bang smack in front of Heythrop Park itself. The house looms large over you as you plot your drive into a position that best avoids a second or third shot over the large pond to the right of the green.
The par 3 13th is an absolute belter. You access the tee via Cotswold stone walls between a natural stream pathway that's known locally as Cold Bath Terrace in recognition of the small stone edifice in which the local ladies used to relax and watch a steady stream of carriages pass by during the 18th and 19thcenturies.
The 13th plays about 200 yards and requires an accurate tee shot over an attractive cascading stream to a green cut into the side of a hill. Standing on the tee you're struck by the realisation that if you were asked to describe a quintessentially English golf hole, this would pretty much be it.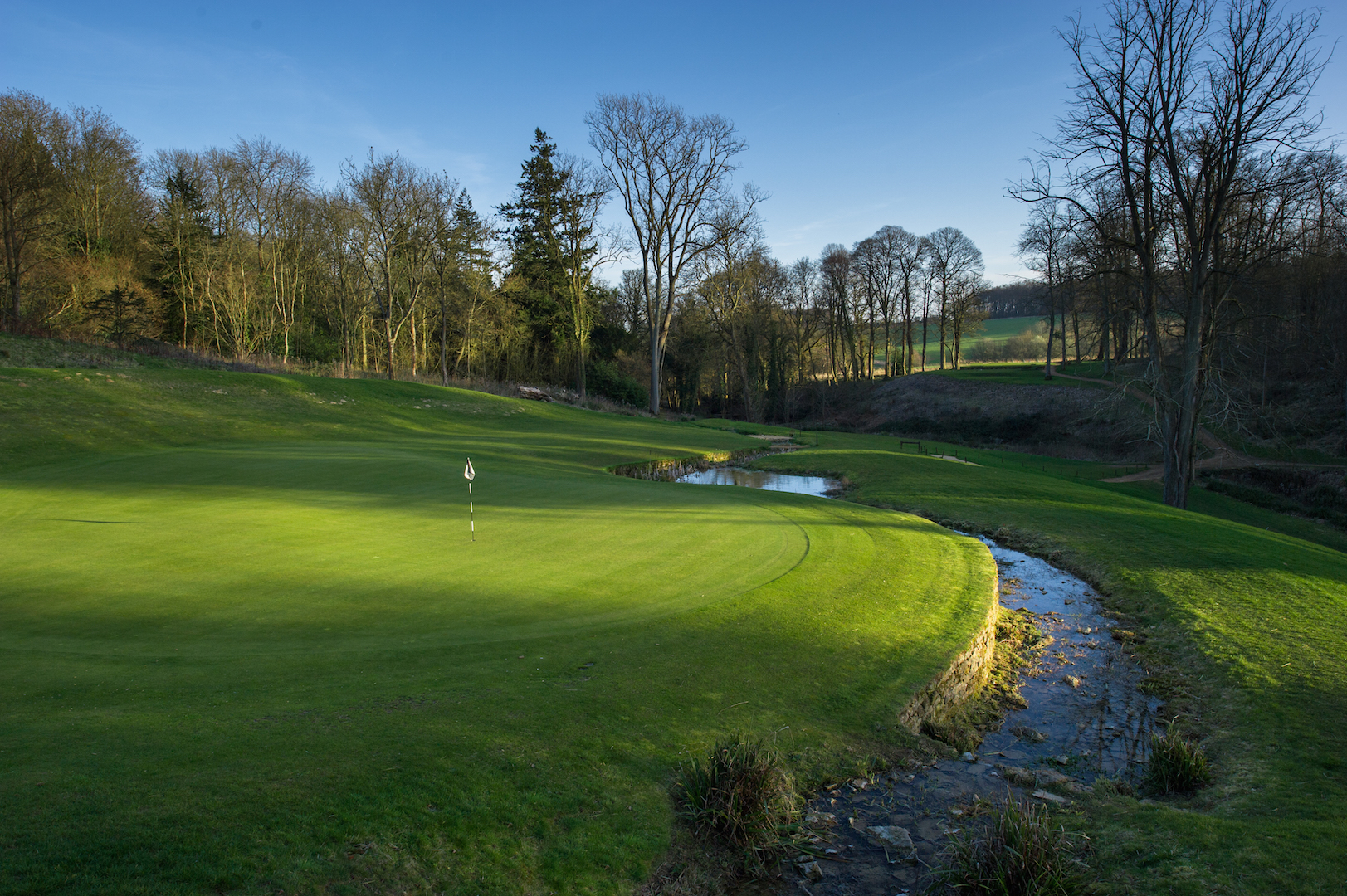 Ancient woodland, lakes and streams abound, treating you to a tranquil and largely private round of golf. So much so that by the time you've landed in the 19th hole, you're a bit surprised to realise there have been other people playing the course.
Heythrop Park has been described as "English golf's sleeping giant" by people 'in the know'. certainly, the Bainbridge course is spectacular. But it has not been on the scene long, and is therefore still waiting to be discovered by most golfers.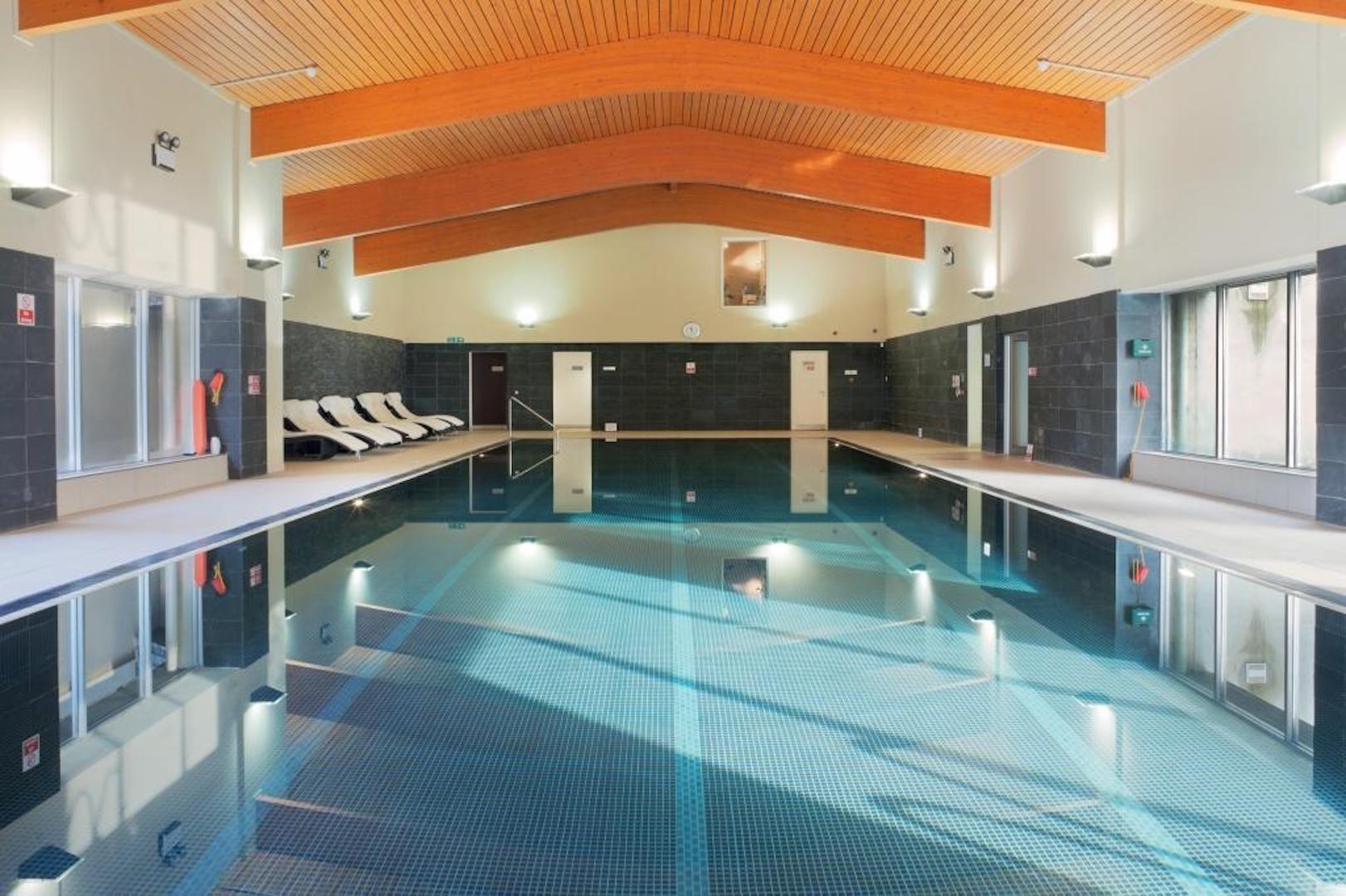 If it was a sleeping giant, it looks like it's taken a bagful of ProPlus now. They've spent a lot of cash, not only on the golf course, but also refurbishing the hotels which provide a great combination of luxury and service.
The 18th at Heythrop is something to behold. From the tee you look straight up the hill and there, some 600 yards away, is the green. And looming over the 18th green is the main house. It's a truly spectacular closing hole.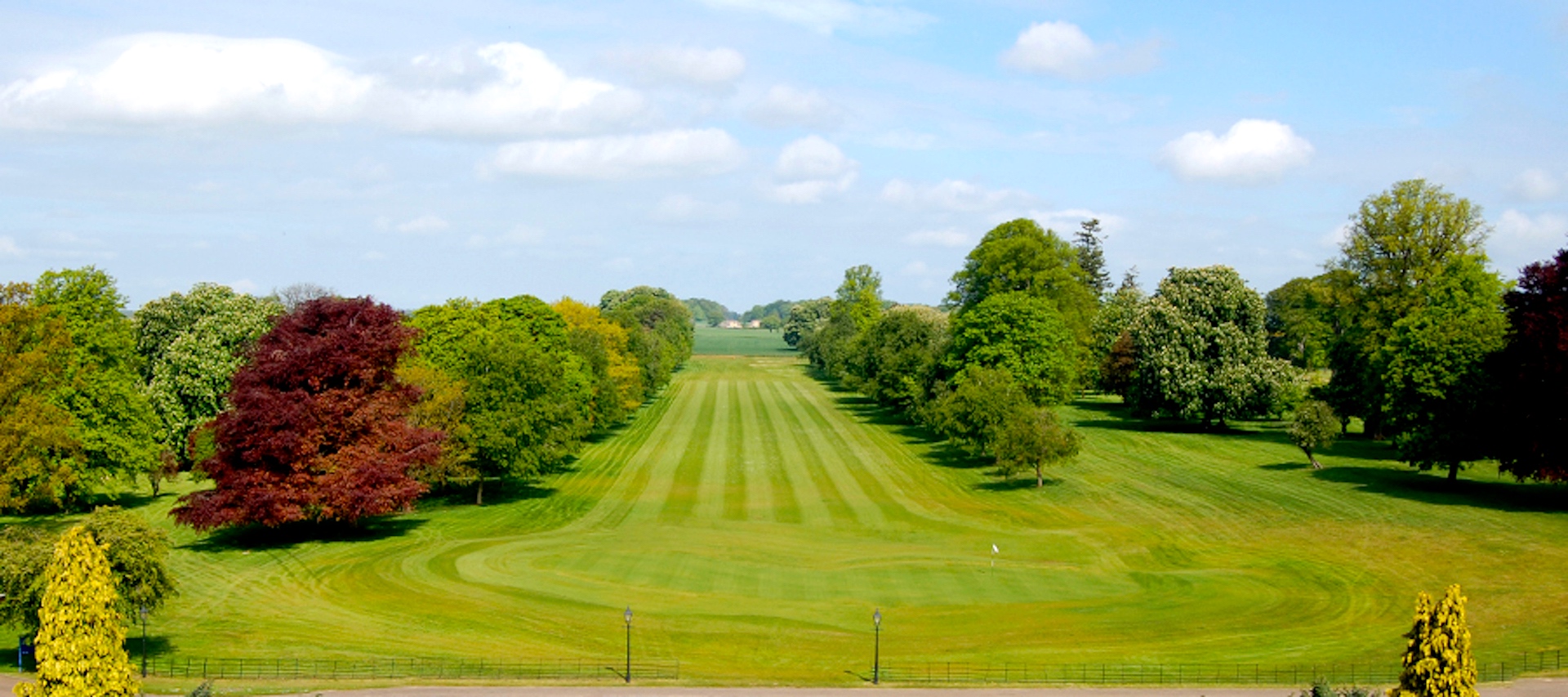 Members will tell you this is the straightest hole in all of golf and I certainly wouldn't argue. It's extremely straight. In fact it looks like it's been prepared like a Premier League football pitch for the opening day of the season.
It requires two mighty blows just to get in range with a wedge for your third. Once your on the green, like the rest of the course, you'll find a carpet like surface offering you nothing by way of excuse for a three putt.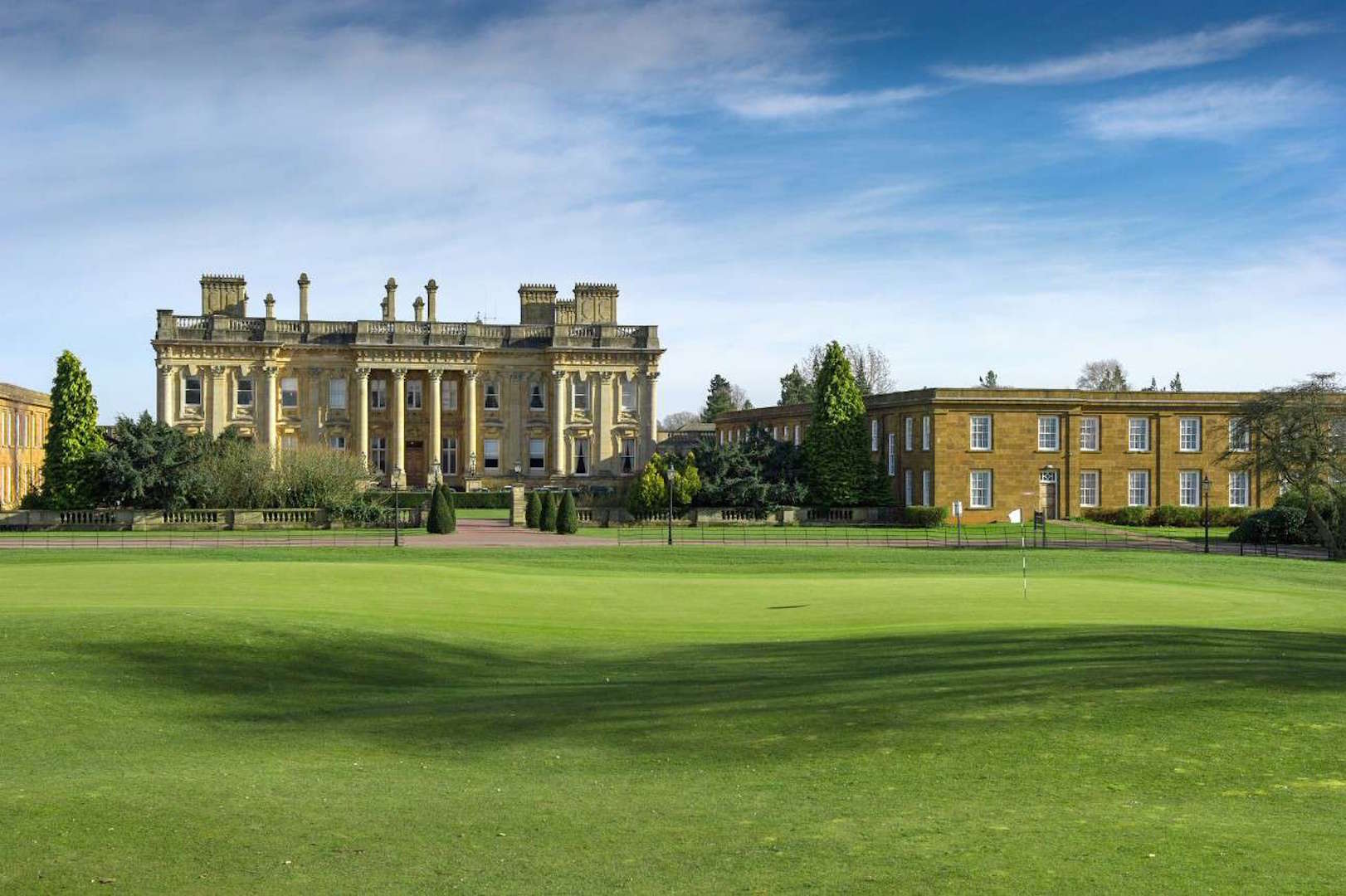 Heythrop Park is situated about 12 miles north of Oxford, near Chipping Norton in the Cotswolds. It's also just 90 minutes from both London and the Midlands. So get your golf sticks cleaned, rev up the motor and get yourself some quality golf capering.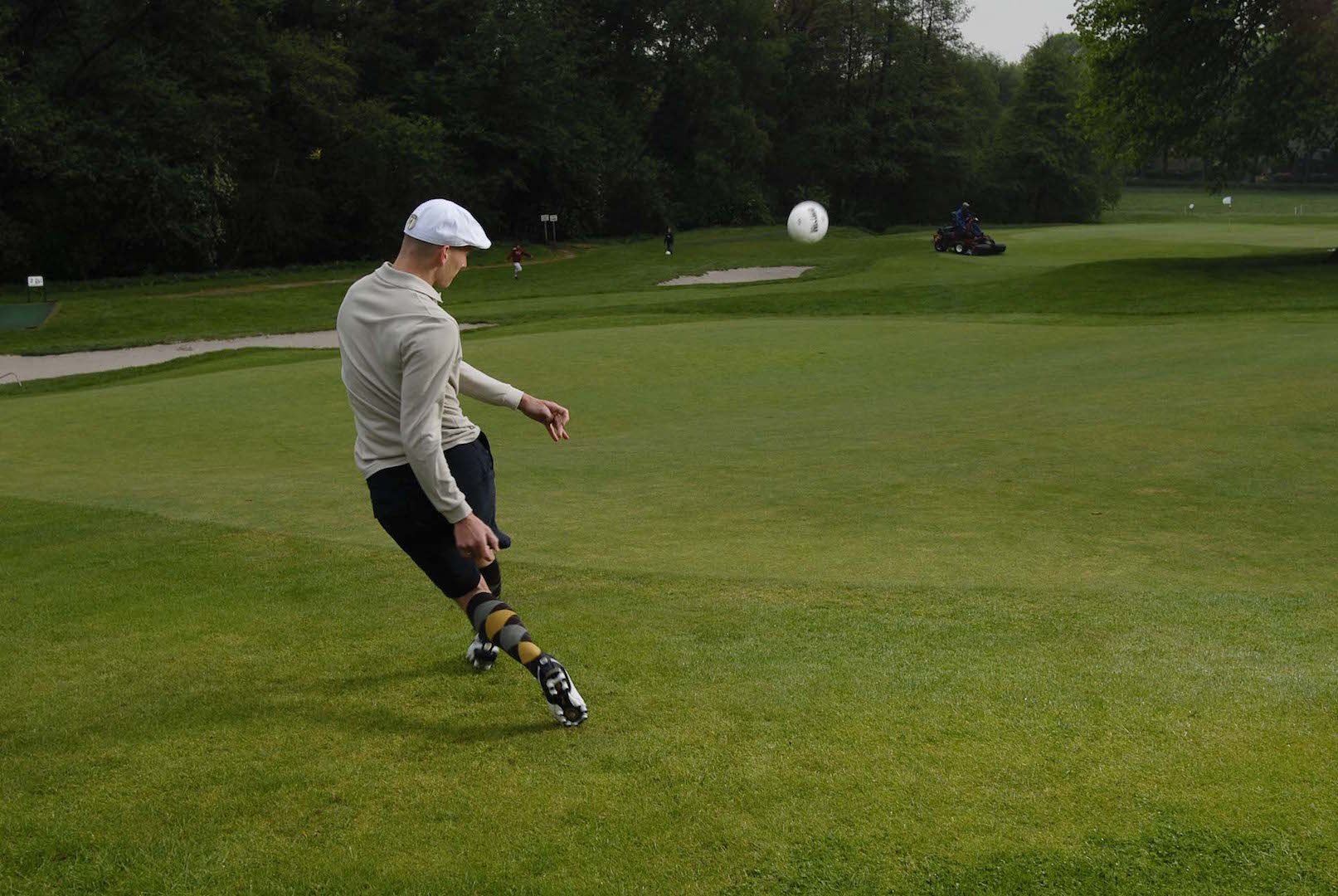 Oh, yes, and there's also a foot golf course if you fancy something a bit more energetic. We're reliably informed that you don't have to dress up like a 19th century golf pioneer in order to use it but, to be fair, this chap looks quite the ticket.
Heythrop Park – we're coming back in here...
Related:
GolfPunk's Jersey travel special