News
Nov 11th, 2017
Wisconsin golf coach resigns after racist tweets
You give golf a bad name...
Words: Florida Dayton
You give golf a band name: A Wisconsin high school boys' golf coach has been forced to resign after it was discovered he sent a series of racist tweets aimed at African-American NASCAR driver Darrell "Bubba" Wallace.
It has been confirmed to the Cambridge News & Independent newspaper that Brent Nottestad, 42, would be stepping down.
https://twitter.com/BubbaWallace/status/929084444383891456
"The Cambridge School District was made aware of several offensive comments made on social media by Cambridge High School boys' golf coach, Brent Nottestad," Cambridge Superintendent Bernie Nikolay said in a release on Thursday.
"After a meeting between Mr. Nottestad and school district officials this morning, Mr. Nottestad resigned his position with the district, effective immediately. As this is a personnel matter, no other statements or comments will be forthcoming from the school district."
Cambridge, Wisconsin, has a population of just 1,500 people and is located 20 miles east of the capital city of Madison. It has a fierce racing history and is the birthplace of NASCAR driver Matt Kenseth.
Nottestad, who has been the Cambridge coach since 2014, posted the tweets in question around 7:30 p.m. Wednesday. They targeted Wallace, who is the lone African-American driver on the NASCAR circuits. Several have since been deleted.
So what's all the fuss about? Well, the victim Darrell Wallace tweeted on Wednesday afternoon: "There is only 1 driver from an African American background at the top level of our sport… I am the 1. You're not gonna stop hearing about 'the black driver' for years. Embrace it, accept it and enjoy the journey…"
That got the golf coach all hot under the collar, with Nottestad replying:
"Will this fella just go away. Can't drive himself out of an open wet paper bag. Sad to see the sport let this clown with zero ability."
And he wasn't done there, getting stuck in again 10 minutes later: "Hey @BubbaWallace. Please quit with, 'I'm black' bs. You're terrible. There are 1423 more credible drivers to get that ride than you."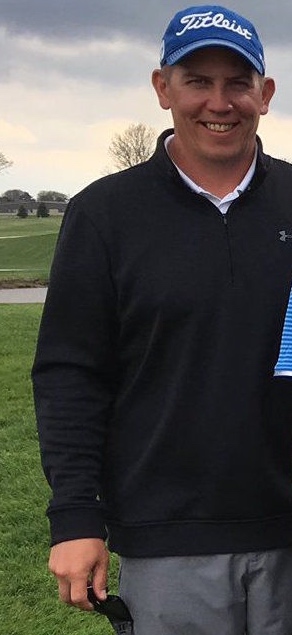 Wallace concluded proceedings by tweeting this: "Wow, I feel truly sorry for your kids. Again...to have so much hate towards somebody you've never met. Hope your kids grow up to be the exact opposite of a father you are…"
Things started to get more unpleasant following Wallace's pinned Tweet, an homage to his late grandmother, as Nottestad tweeted: "Granny Jan die in a police shooting?"
Nottestad's final tweet of the night was attached to a photo of Wallace with a white NASCAR fan. "Almost looks like going to the zoo," Nottestad posted.
It wasn't the first occasion that Nottestad had tweeted at Wallace. Responding to a Wallace tweet that read, "Everybody's got excuses..." Nottestad responded: "What's yours? Skin color?"
I know, I know,.. it's a slow news day... at least he got the sack and can't give golf a bad name any more...
Related:
Cheer yourself up with this as Shinzo Abe goes flying in bunker playing with Trump