The Masters
Apr 3rd, 2018
Top 20 Masters Dramas
Everything from 'The Mystery Of The Faulty Flowers' to 'The Miracle Of Jack
Words: Shaun McGuckian, Daniel Owen, Tim Southwell Photography: Getty Images
It's Masters Monday and to celebrate here we bring you the Top 20 Masters Dramas Ever
20)

The Mystery Of The Faulty Flowers
Augusta is famed for its flowers – 8,000 in more than 350 varieties planted since 1932. One particularly nippy year, however, Mother Nature was causing merry hell to the blooming patterns and to keep up appearances the ground staff planted some suitable replacements.
All would've been well if not for the green-fingered eyes of one professional who noticed that the imitations were in fact plastic. "Where they made their mistake," he said "was that the flowers were ranunculus which don't bloom in April." Upon mentioning his observations he returned the next day to find the flowers replaced with the real deal. Only at Augusta.

19)

Ben Crenshaw's Emotional Meltdown
Author of possibly one of the most emotional scenes ever on a golf course, Ben Crenshaw's victory in 1995 was as much a display of human spirit as golfing ability. The week before he had learned of the death of his long-time mentor Harvey Penick, just a week after he'd had his last ever putting lesson from him. On the Wednesday he acted as pall bearer at Penick's funeral, and on Sunday he collapsed in tears after holing the winning putt bringing grandstands and spectators around the world to a tearful ovation.
https://www.youtube.com/watch?v=QYAno13hIJk
18)

Curtis Strange Blows Up On 13...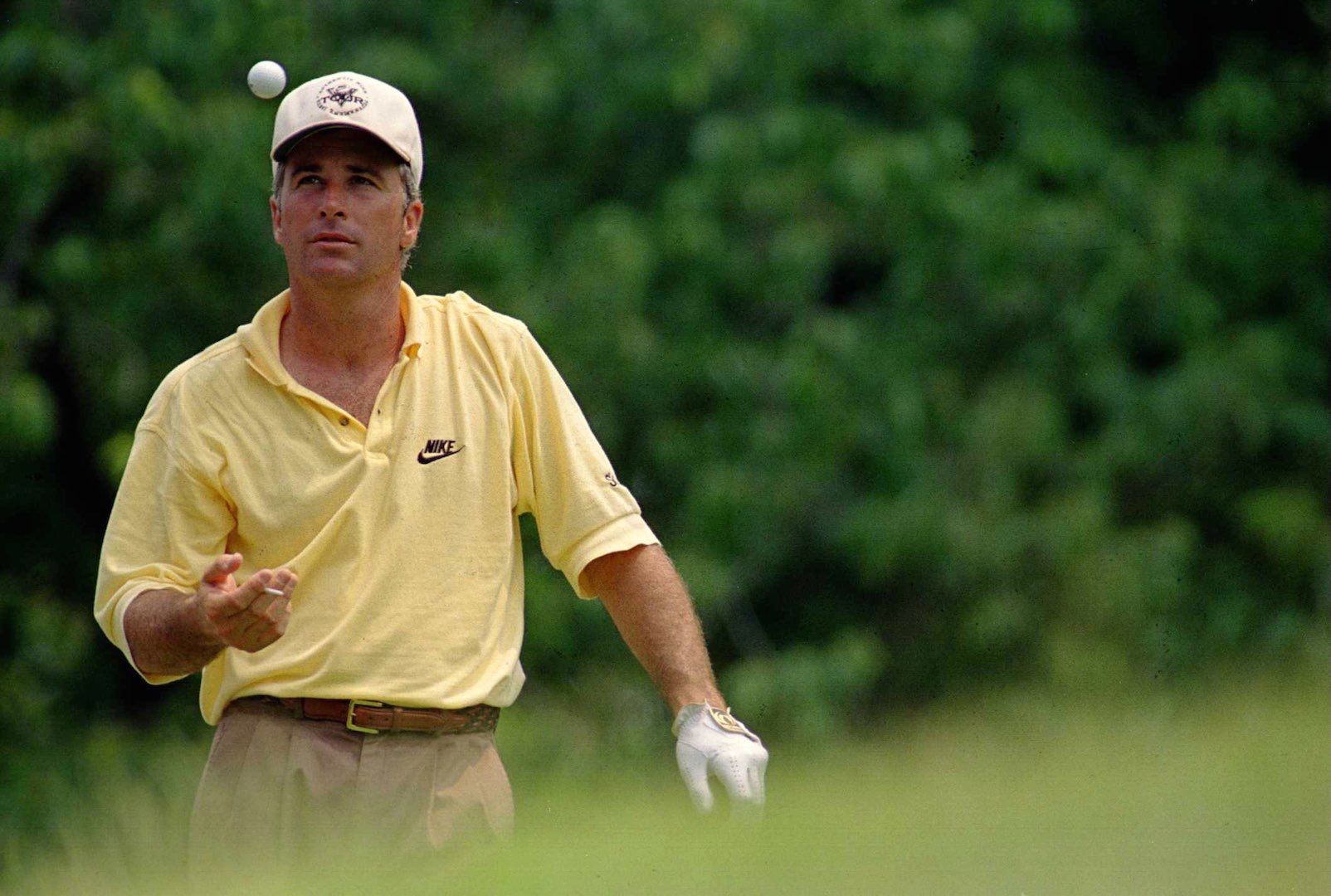 Curtis Strange was an American hero in 1985, topping money lists and collecting trophies. In the Masters he looked set to continue in this vein after rounds of 65, 68 corrected a horrible opener of 80, and he was grinding to possibly one of the hardest- fought victories in history. Then water on 13 and more water on 15 allowed the canny young German, Bernhard Langer, to steal victory – a victory more renowned for the bitter tears shed around the 18th green than cries of joy.
https://www.youtube.com/watch?v=MwS98kMwMPk
17)

Phil Mickelson's Hover-Shoes
https://www.youtube.com/watch?v=-q4Qhcaulyc
16)

Weiskopf & Jack Assassination Plot
During the Seventies there was a peculiar trend for issuing death threats to pro golfers during events. Hubert Green won the 1977 US Open with the fear of an assassination attempt hanging over his head, and that year the crowd became a lot more than part of the scenery at Augusta when a death threat was made against Jack Nicklaus; much to Tom Weiskopf's chagrin. As he was teamed with Jack for the last round a security guard took him aside and said: "Tom, I don't want to upset you, but it's my responsibility to tell you that Jack has received a death threat today. There's going to be some FBI guys and security in the gallery, and I'm going to be with you. I just wanted you to know."
The situation worsened, however, when Weiskopf turned up on the first tee to find Nicklaus wearing exactly the same shirt as him. Ever safety-conscious, Weiskopf sent his wife off to the pro- shop to buy a new shirt and changed on the first tee. Upon enquiring what the bijesus was going on, Tom said to Jack: "I just want to make sure they don't shoot the wrong guy. He laughed like hell. We both played terribly."
15)

Ben Hogan: The Week That Set Up The Slam
A horrific bus crash in 1949 left Ben Hogan inches from death and closer still to never walking again. Miraculously, by 1953 he'd made a full recovery and demonstrated it by winning the Masters with a scoring record, going on to complete the 'Hogan Slam' that year. The bridge on the 12th hole was dedicated to him as a result.
Nice vid of Hogan's swing at 1967 Masters
https://www.youtube.com/watch?v=uEK3m7JC8Dk
14)

Tom Weiskopf: Rae's Creek Shocker
It's a par three measuring only 155 yards, but Rae's Creek, the 12th, is possibly one of the most daunting shots in the world come Masters week. For the crowd following Tom Weiskopf in 1980 it became a tear-jerking tragedy of Shakespearean proportions.
"I had never hit a ball into Rae's Creek until that time. I hit my tee shot and it landed on the green and then rolled back into the water. I went down to the drop area, pulled out my sand wedge and hit it in the water again. I dropped again, and this time it rolled into a horrible lie.
"I looked down at my ball and started getting angry. I could have aimed it at the fat part of the green and two-putted, but I was stubborn and determined to hit it close to the hole and one-putt. Later I found out that my wife Jeanne was standing there watching in tears..."
13)

Jack Burke Jr: The Comeback Scoring Record
1956, Jack Burke Jr, the all-American boy, makes up eight strokes to edge Ken Venturi out by one. Venturi, an unsung amateur, had captured the imagination of the galleries, but crumbled during a fascinating – and high-scoring – final round. Burke Jr had started the day eight shots off the pace but came out with renewed impetus knowing Venturi was faltering hole by hole, Burke overturned the biggest shot deficit in final round history at Augusta, a record that stands today.
https://www.youtube.com/watch?v=RxQZTuhEgFY
12)

Tiger Rocks The World
The camera zooms in, Tiger stands stone-faced at the edge of the 16th green, wedge in hand. As the gallery fall silent in anticipation, CBS commentators Vern Lundquist and Lanny Wadkins can't control their excitement...
VL: "And he's picked out a landing spot that is a good 25ft above the hole."
LW: "There's a good chance he doesn't get this inside DiMarco's ball."
Tiger, a mask of concentration, stares hard, and dips his head to focus on the ball. After ten long seconds, Tiger draws back his club and chips a low one at the brow. As the ball hits the spot and checks towards the hole, the crowd begin to murmur.
VL: "Now, here it comes..." The ball is heading straight at the cup... VL: "Oh my goodness!"
The ball slows, it seems as if it is going to stop. It turns once, hugs the lip of the hole and completely stops for a second before the momentum finally drags the Nike swoosh logo into the cup.
VL: "OH, WOW!!! In your life have you ever seen anything like that!!!"
Tiger pumps his fist and high-fives Steve Williams.
VL: "This guy is pretty good."
https://www.youtube.com/watch?v=vRCjJi_uDp8
11)

Doug Ford: The Argument With Fireball
If the modern game is the home of zen-like focus and inner calm, then the 50s and 60s were about swash- buckling passion and bravado like on the 15th hole of the Master in 1957, where Doug Ford won the Masters while having an argument with his caddy.
"On Saturday my second shot hit the bank of the pond and rolled in the edge. I rolled up my trouser legs and blasted it out but still made bogey. When I got into the clubhouse, I was three strokes behind leader Sam Snead, and a couple of old-time pros said if I got a chance at 15 tomorrow to lay up.
"Well, on Sunday I led by one and drove in the exact same place on 15. My caddy, Fireball, said to lay up and wouldn't let me take the 3-wood out of the bag. He said to take the 4-iron and lay up. We were fighting over the club and arguing so much that the gallery started laughing at us.
Finally, I said, Snead is right behind us and he'll easily be able to reach the green in two. Besides, they don't remember you here unless you go for it and win." His ball made it on by a whisker and the rest is history.
https://www.youtube.com/watch?v=LEAql_YYwvQ
10)

Byron Nelson: The Lady With The Organ
In 1937 the Masters committee decided to present the winner with a green jacket as a prize. This was also the year Byron Nelson decided he was going to become one of golf's greatest. Six shots back on Ralph Guldahl, Byron proceeded to birdie the tricky 12th and then eagle the 13th to close the gap. He completed the back nine in 32 and won by two while Guldahl slumped to a 76.
Nelson's inspiration? A piano: "I finished breakfast on the final day and had plenty of time. I loved organ music I listened to a lady play in the hotel lobby for a while. She was playing waltzes. I think that's why I had rhythm that day."
https://www.youtube.com/watch?v=OtAyZg28eck
9)

Art Wall: 'Aces' Wall Crushes Arnie
https://www.youtube.com/watch?v=EmdaR1qAp14
8)

Fred Couples: The Cliffhanger At Rae's Creek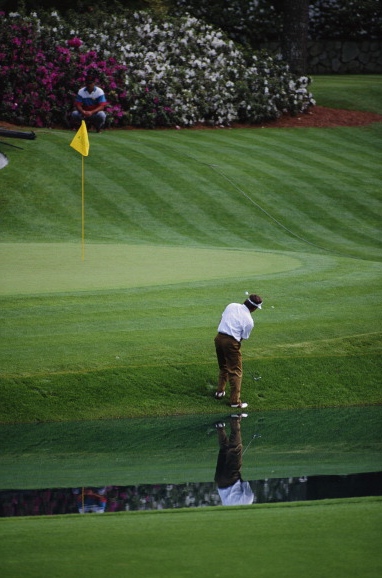 In 1992 Fred Couples was leading with seven holes to play when his tee shot at Rae's Creek fell fractionally short and headed drink-ward. But, unlike any ball that week, his clung on to a clump of rough on the very edge of the water. He escaped with par and held off Raymond Floyd the rest of the way to victory. 'Right,' said Fred.
https://www.youtube.com/watch?v=pXv3Uxi4rwo



7)

Greg Norman...
The capitulation of Greg Norman to Faldo's cross-armed stare in 1996 is well documented. What isn't remembered is the seismic groan that occurred as the crowd watched Norman's tee shot on the par three 16th hooked wildly into the water.
It was the epitome of the complete disappearance of Norman's game over that back nine as 265million viewers watched. "Don't let the bastards get you down," was all that Nick Faldo could say as he slipped on his snug, new, green jacket.
https://www.youtube.com/watch?v=WHh5ODSbWgw
6)

Roberto de Vicenzo: "I Am Such A Stupid"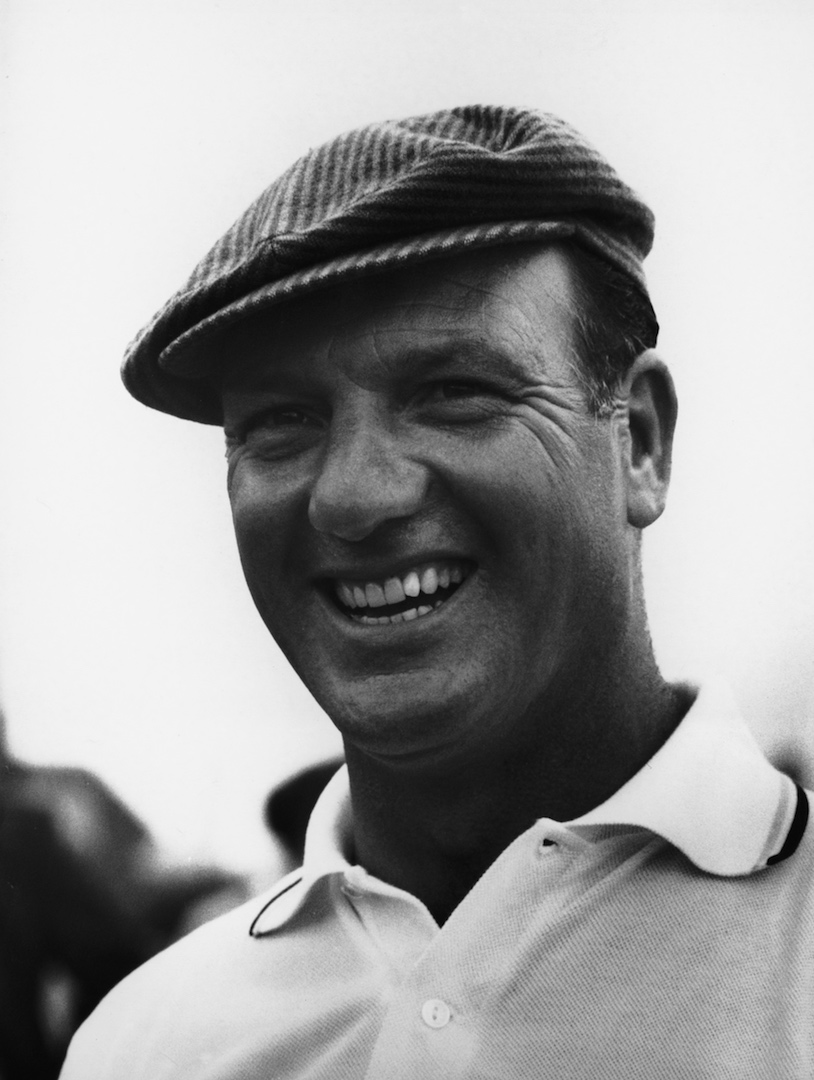 The amount of air inhaled by the crowd when the result of the 1968 Masters was announced would have been enough to save The Hindenburg.
To all intents and purposes Roberto de Vicenzo had sewn up a place in the play-off with a dazzling display of golf, shooting 66. However, the Argentinean had forgotten that he'd birdied the 17th hole in all the excitement and marked down a four on his card instead.
He missed the play-off by one shot, handing victory to Bob Goalby in the process. Bob, who had used a one-eyed caddy that year, had played some fantastic golf himself, but never quite got the recognition of other Masters champions. "I shot 66 in the final round, but you never heard about that. I did get 500 of the worst letters you've ever seen after that win."
For de Vicenzo's part, he informed his press conference that: "I am such a stupid..."
5)

Larry Mize: The Sand Iron The Bludgeoned The Shark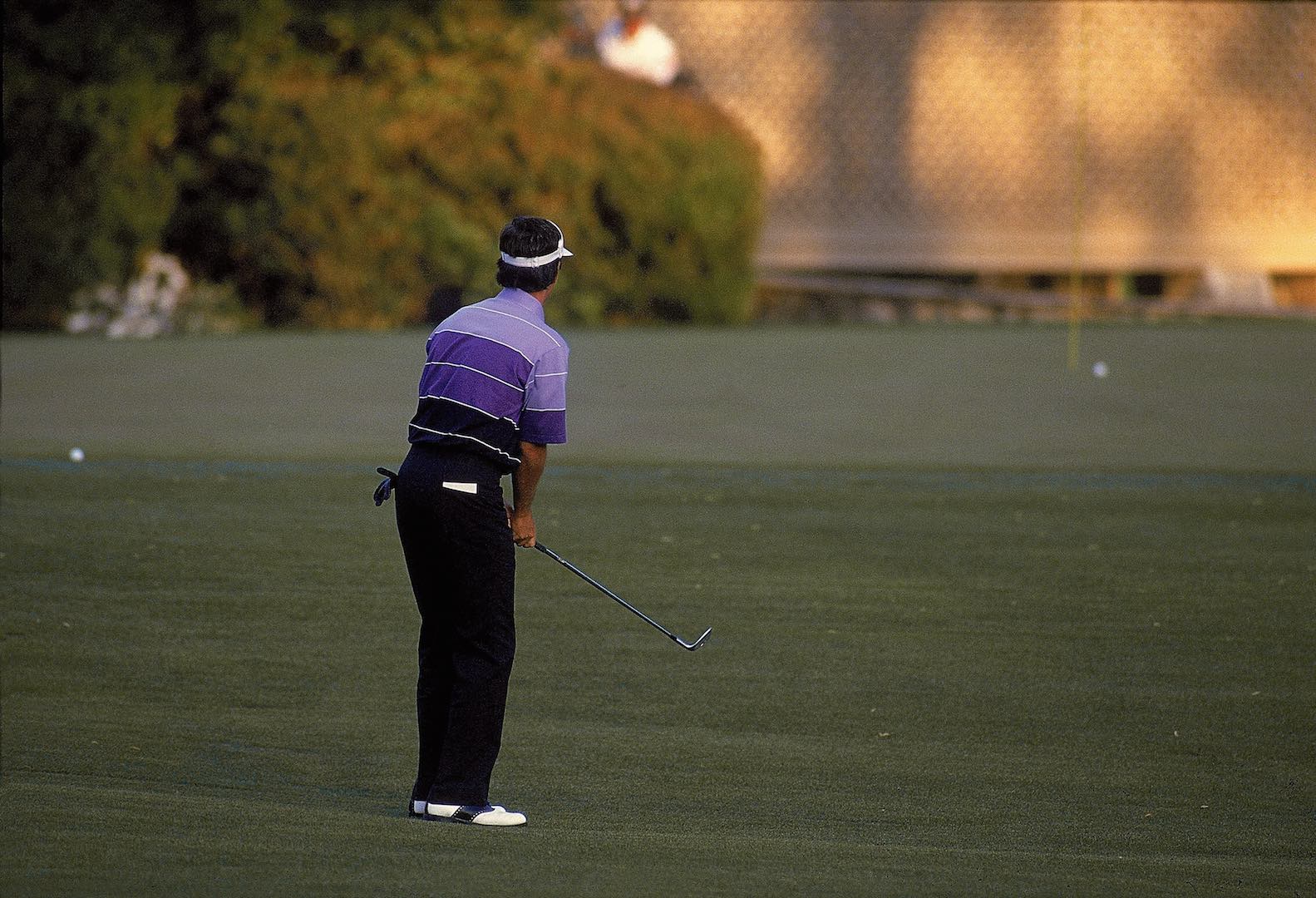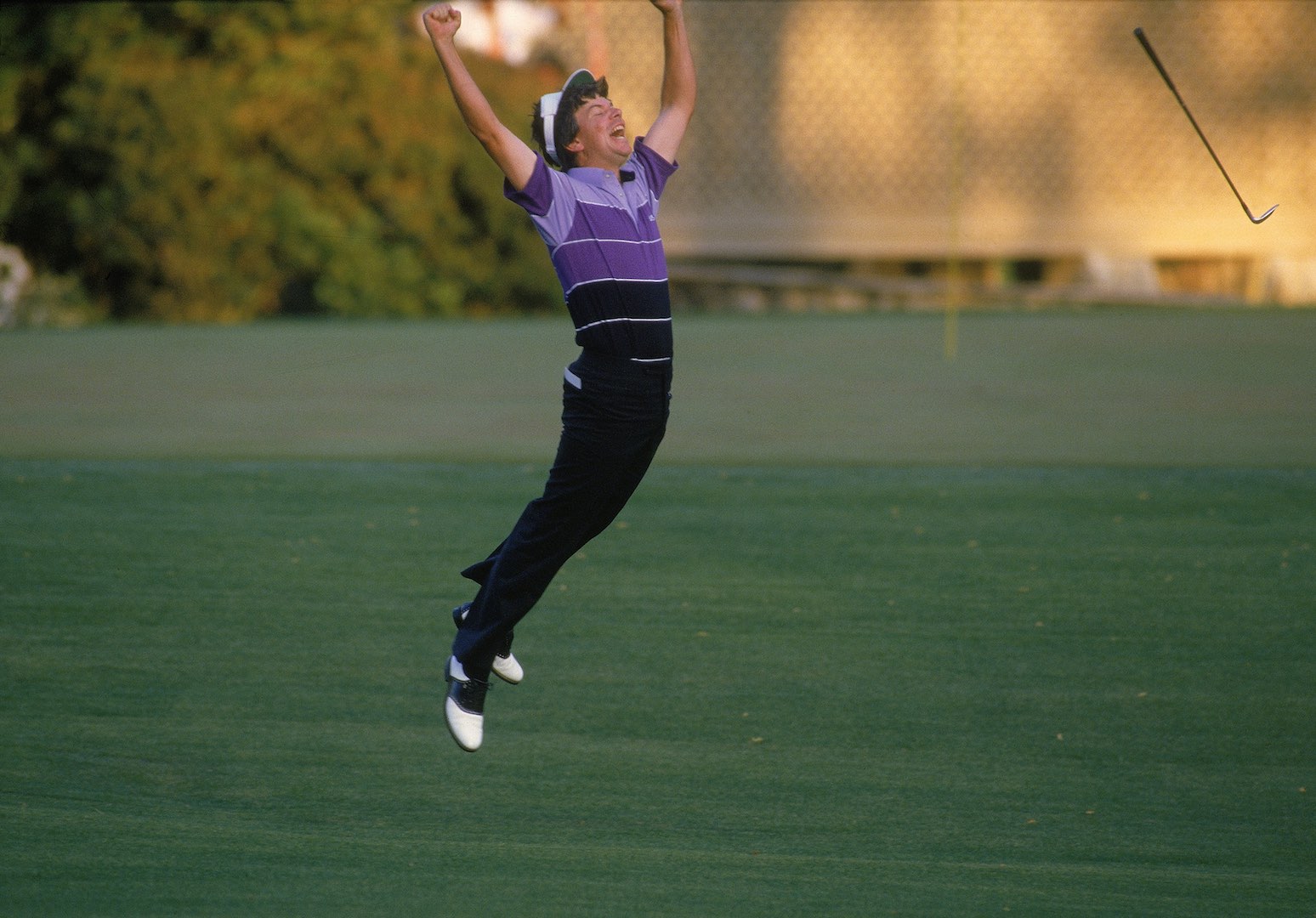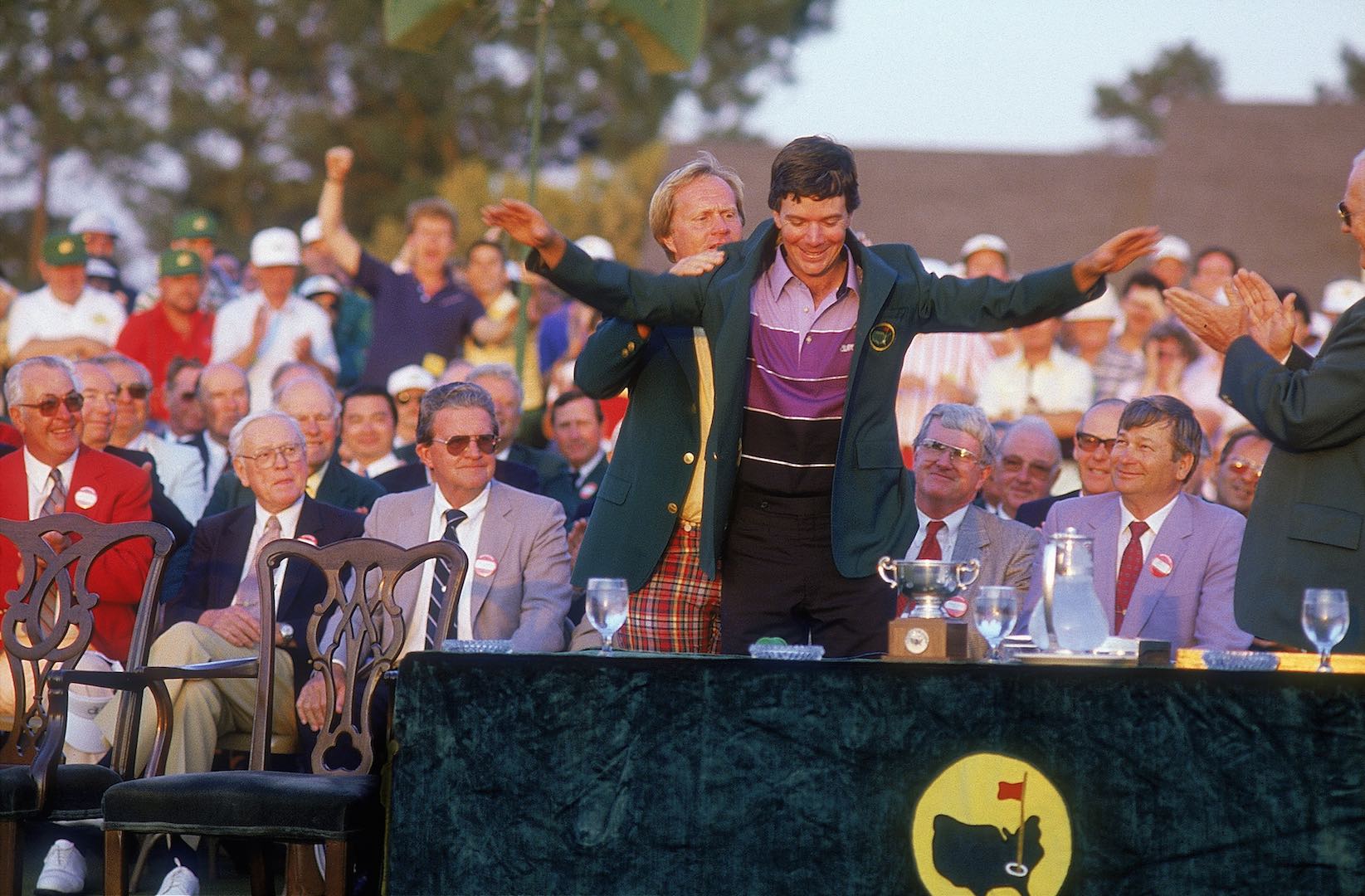 In 1987, April 12, Larry Mize and Greg Norman were locked in a play-off. As Norman describes... "On the second sudden-death hole, Larry pushed his 194-yard iron shot out to the right, and I hit a 7-iron on to the fringe. Mize hiked 140 feet off the green down into a little swale where his ball had come to rest.
"At this point I was feeling pretty good about my chances. My opponent was going to have a tough time getting down in two for a par. Actually, odds were he would bogey the hole... "I was down on my haunches and trying to put myself in as positive a frame of mind as possible. I never even saw Larry hit his shot."
Long story short, he holed it and heard, "One of the most powerful moments I have ever experienced occurred when the enormity of the decibels made by the gallery hit me."
To rub salt into the wound, the first-time Mize had used that sand-iron was at the Masters that week.
https://www.youtube.com/watch?v=vrMFGsBXnYI
4)

Tiger's Record
Thousands had gathered around the first tee of the 1997 Masters to watch a young, black American stripe one 320 yards down the fairway.
What happened in the four days after was to set the standard for modern golf to this very day. Eldrick 'Tiger' Woods ripped the field and heart of the Augusta course apart with a phenomenal display and a 12-shot victory to capture his first green jacket. It was the biggest winning margin since 1862, only 135 years. Don't know what all the fuss was about really.
Peter Alliss was moved to say of Tiger's prowess: "This is no a game I am familiar with any more..."
Tiger's Top 10 Major Moments
https://www.youtube.com/watch?v=oN2vOGAz7v0
3)

Jack Nicklaus: The Miracle Of 46th Street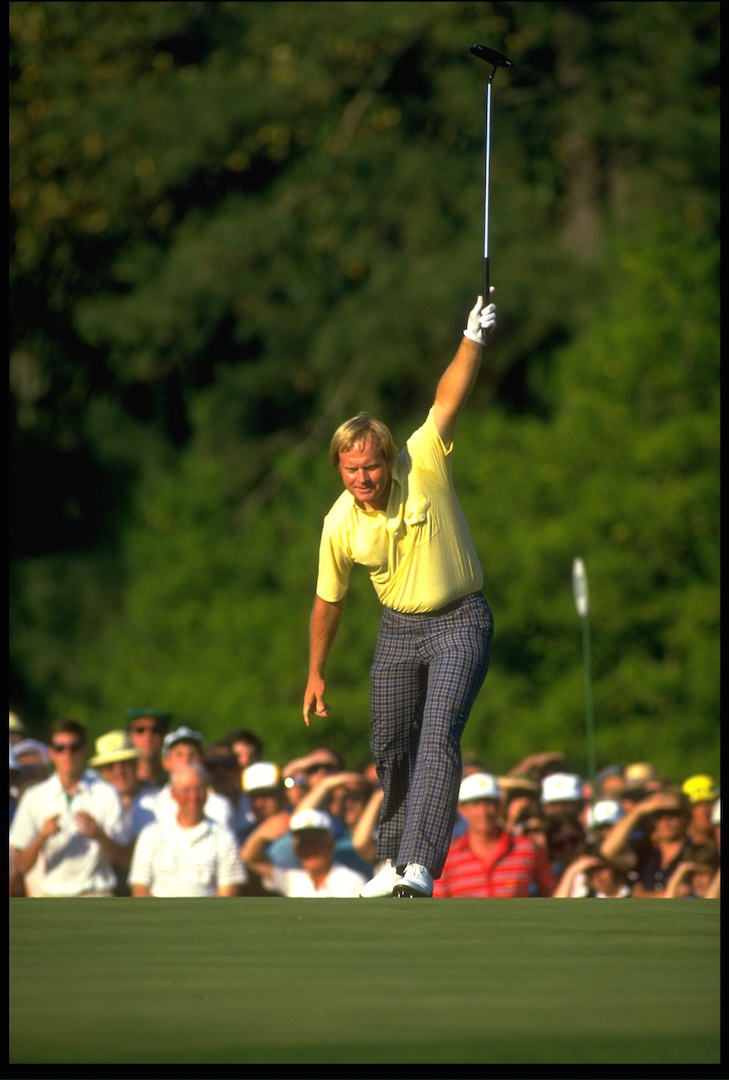 1986. Jack hasn't won a tournament,let alone a major since before the War. The press had written him off and one particular journalist got Jack's gander up by saying he should pack it in.
The week then went like this: "He'll never win it, he can't win it, he's winning it?" The legendary pose of Augusta's favourite son defying everyone at the age of 46 playing an Augusta track longer than ever before, starting with a first round of 74 and ripping through the pack with a final round of 65, a back nine of 30 magnificent strokes to take his sixth green jacket. Nuff said.
https://www.youtube.com/watch?v=STb0KZFox8w
2)

Fuzzy Zoeller: First Time Winner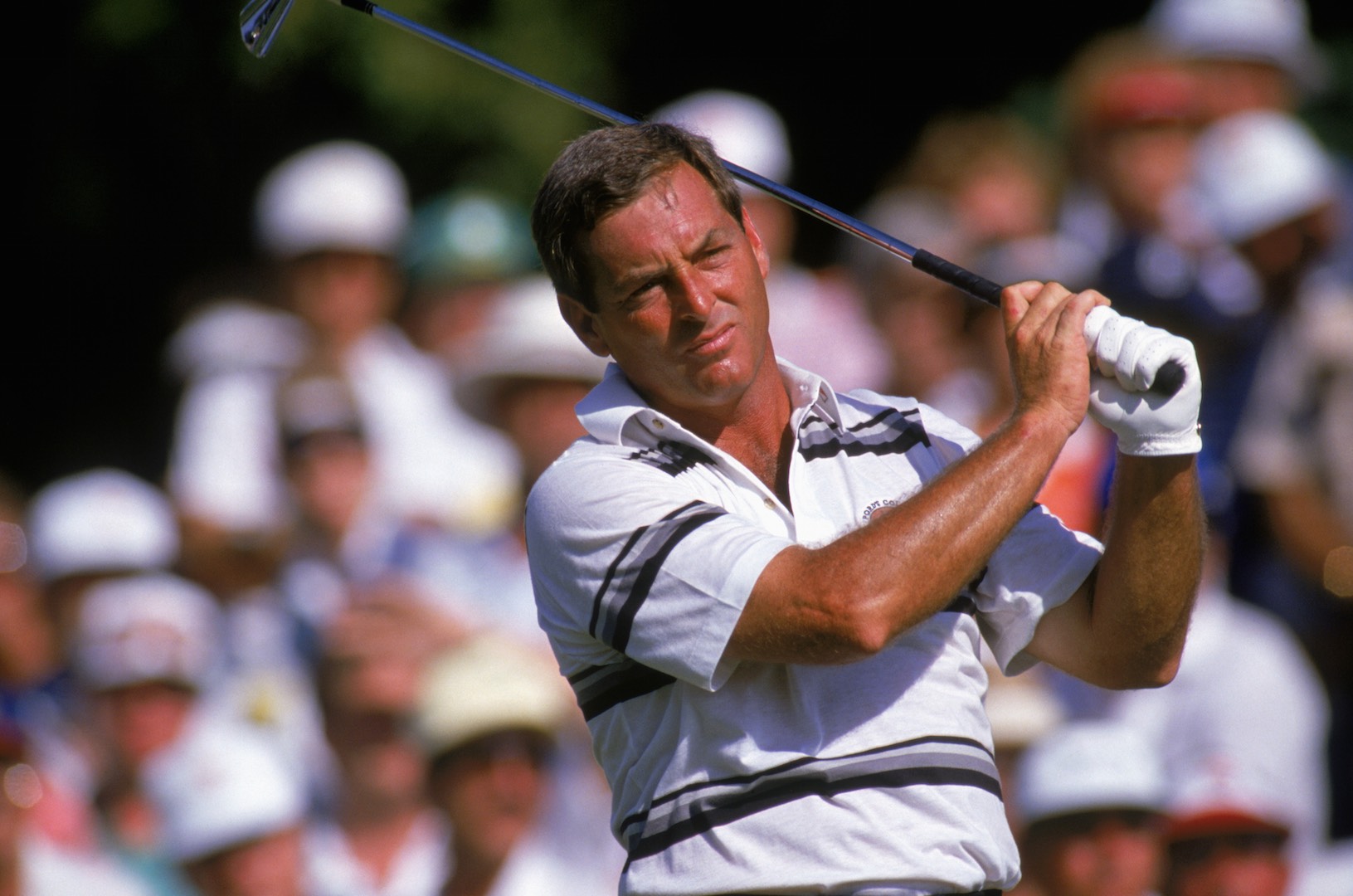 Frank Urban Zoeller Jr had a little bit of form going into his first Masters in 1979, but not that much. In fact, being six shots behind leader Ed Sneed going into the final round, his chances of winning looked remote at best and for the 15 holes that he remained five shots behind the leader hope continued to fade.
Stood on the 15th hole, Zoeller had a 3-wood in his hands: "Now, I'll tell you exactly how far I can hit a 3-wood. I can hit it 235 yards without any wind," says Zoeller.
Unfortunately for him, he was 245 away and gambling. It paid off, however, as he made a birdie, shot 70 and watched as Sneed crumbled horribly on his closing three holes, then edged out Tom Watson and Sneed in a play-off to join Gene Sarazen and Horton Smith in an illustrious group of first-time winners.
"Two balls right and don't leave it short," were the last words he heard before his putter flew into the air and he entered into history.
https://www.youtube.com/watch?v=bq0NouvivGo
1)

Gene Sarazen: The Shot Heard Across The World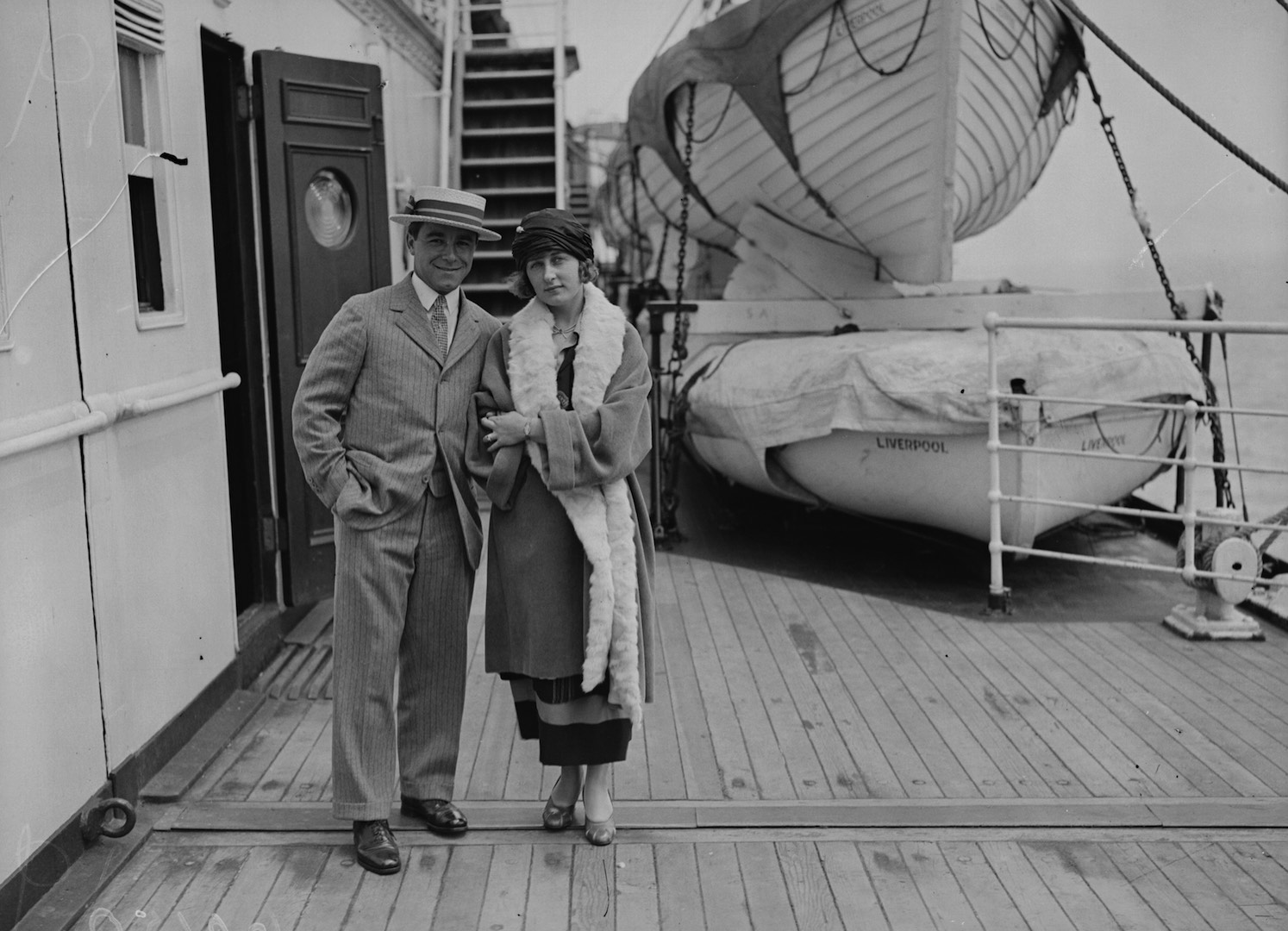 Even in the respectable starch-collared era of 1935, the events of the final round on the 485-yard 15th hole were to cause a hysteria that will echo into eternity.
Three shots back from leader Craig Wood and 230-yards from the pin, Gene Sarazen was chasing hard but losing time. So he made up for it by holing his spoon shot for an albatross, catching Wood in a play-off and eventually winning the title with the 'shot that was heard around the world'.
We're still gasping now.
https://www.youtube.com/watch?v=t2kDdTDM2kg
You might also like...
GolfPunk Magazine Issue 2. Read FREE here PLUS win a luxury golf break at the legendary Kulm Hotel in St. Moritz & a 4-Ball at Europe's best new golf course Monte Rei!!!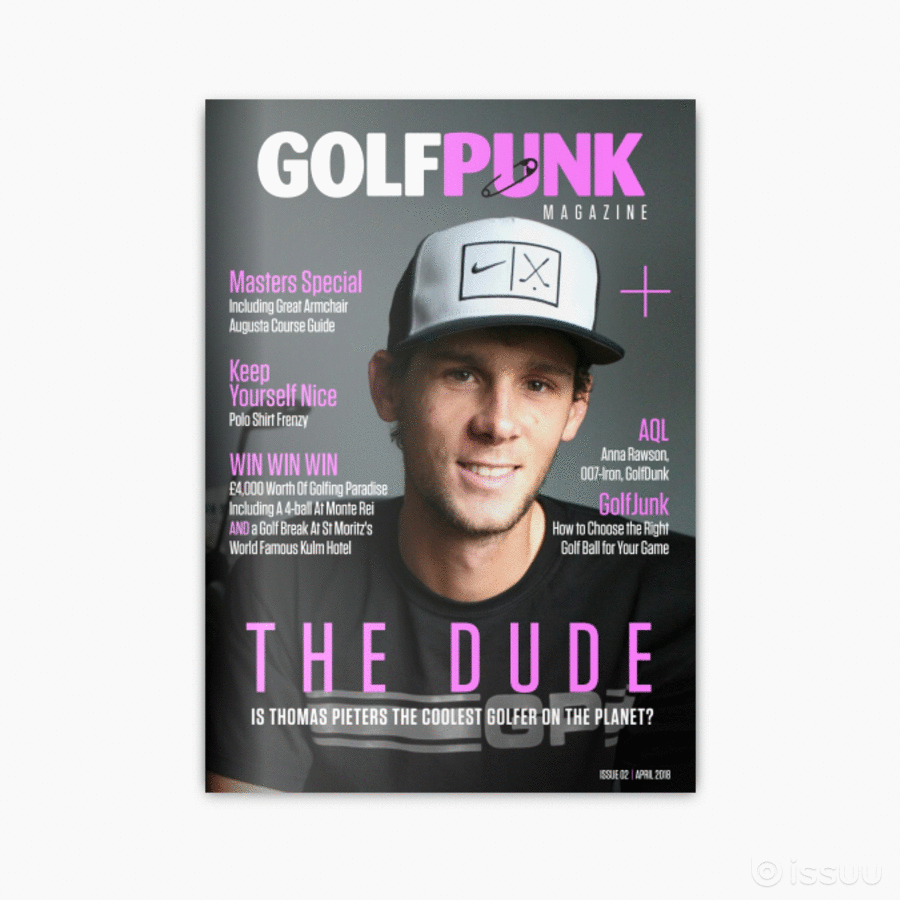 GolfPunk's Musical Tribute To Augusta